Walking into Trudy Benson's studio, I was struck by the tactile quality in her paintings and how the surface of the paint played a crucial role in reading and understanding her work. I immediately associated with the digital 'space' to her paintings which act almost like computer screens. The conflict between the flatness of the image and the physicality of the paint became only fully apparent in person.
Trudy Benson is a painter living and working in Brooklyn New York. After working in a large space in Jersey City and a small basement in Brooklyn, she moved studios to her current location near the Navy Yard. We visited her space while she was getting ready for her solo show at Horton Gallery. 'Paint' opens on April 25. Graduating from Pratt with an MFA in Painting, Trudy has shown at Horton Gallery, Freight+Volume and Mike Weiss Gallery.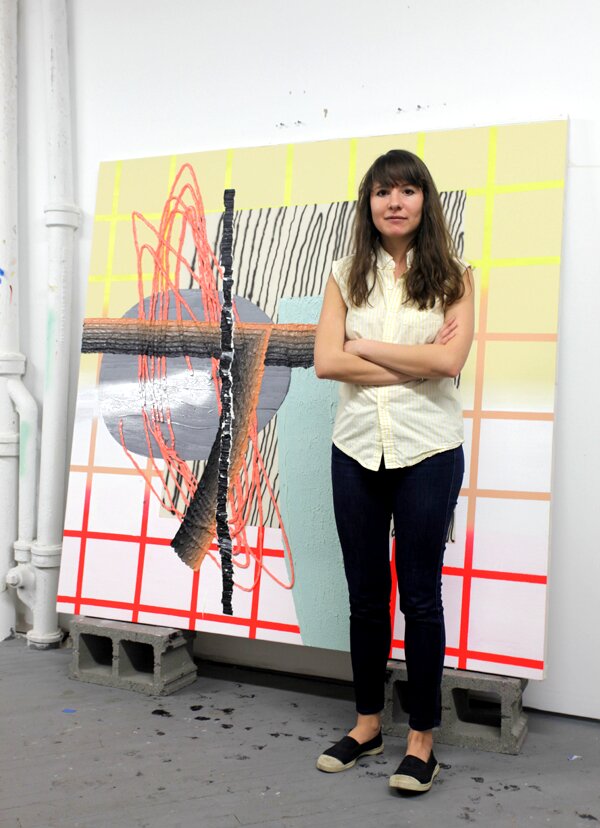 F: Where was your old studio? Was it nearby?
TB: It was in Dumbo. I was in a basement and I thought I was going to be able to fit big paintings down there and didn't actually try it.
TB: I've had 3 studios within the last year.
F: Why is that?
TB: I had a studio in Jersey City and it was huge and beautiful and really cheap but it was sucking the life out of me. It was an hour and a half [commute] each way on the weekends so I moved to this space in Dumbo. I realized I couldn't work down there and then there was the hurricane. The basement next to us flooded but somehow we didn't.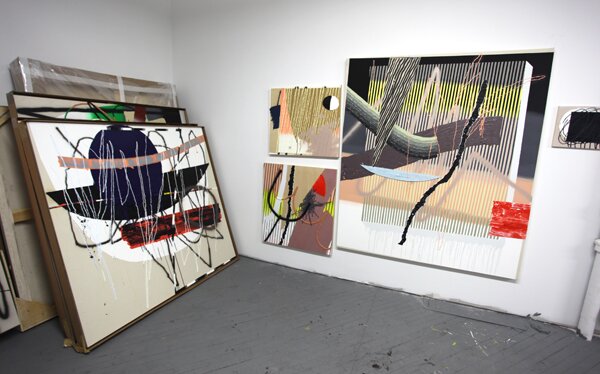 F: That's really scary. I can't even imagine. So you moved here and you've been making these larger paintings but not quite as large as those [referencing the larger paintings]. Would you say you're most comfortable making paintings that size?
T: I really like this size. It's 63″ x 68″ and that's one size that I'm really comfortable with, but I also like 80″ x 77″. I have done a couple 8′ x 9′s but I don't always think it's necessary to make paintings that big. I made one for my last show in 2011 and then bought all of these 8′ x 9′s thinking that I was going to make more of them.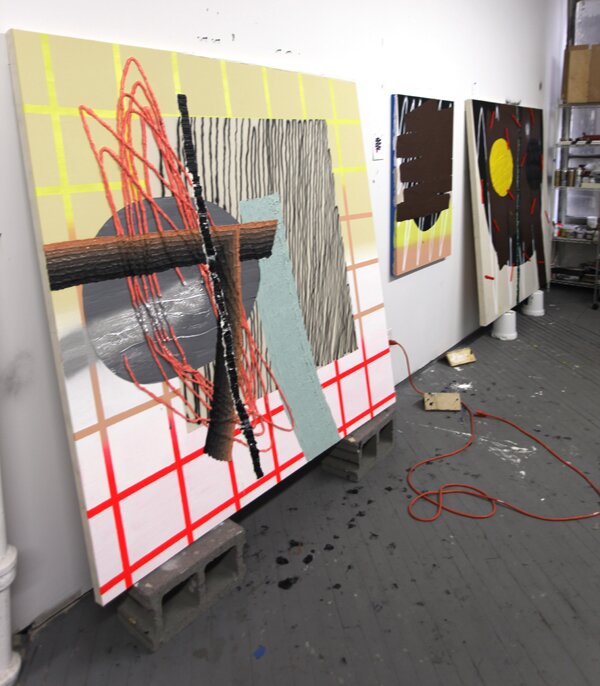 F: Does the the size of the paintings dictate what you're going to do?
T: Normally when I start a painting, I don't really know at all what it's going to look like and I think on that scale, for some reason, it works for me. At least, 80″ x 77″, 63″ x 68″ but on that scale [8' x 9'], I have to do more planning and it has to be more intentional about what I actually want to do before I even try it so it's just a different way of working.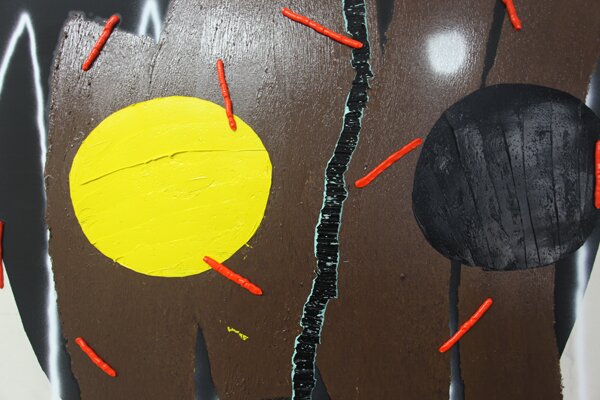 F: Usually from what it looks like, you start with this space layer. I'm familiar with your grids but not as much with your stripes. Is that new?
T: Yeah I haven't done a lot of grids. That's actually the only 2 grids I've done in the last year, but I think they can work. I started using the grids because I was thinking about making abstract computer paintings so I think that's a really obvious reference. The stripes are doing the same thing but they also distort the space more.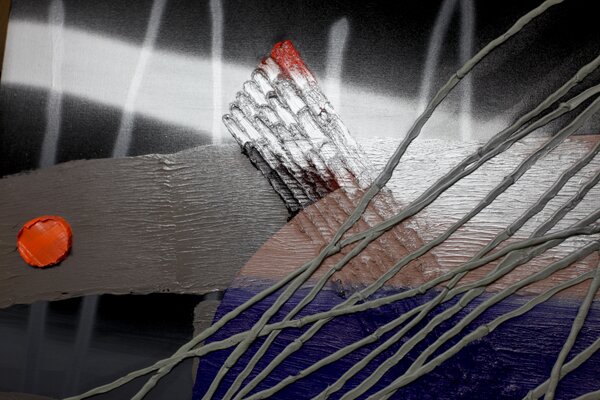 F: From there, you kind of build up your vocabulary with different marks. It almost seems like in a weird way that you're working in Photoshop and then making them into paintings but you're not actually doing that.
T: No, I'm not doing that. For the most part for these paintings, I feel like they are a collage of different painting moves and I approach it the same way you would if you're making a Photoshop file. I guess the better thing would be a paint program on your PC. I was using paint using different materials like paint in that way without kind of making the connection.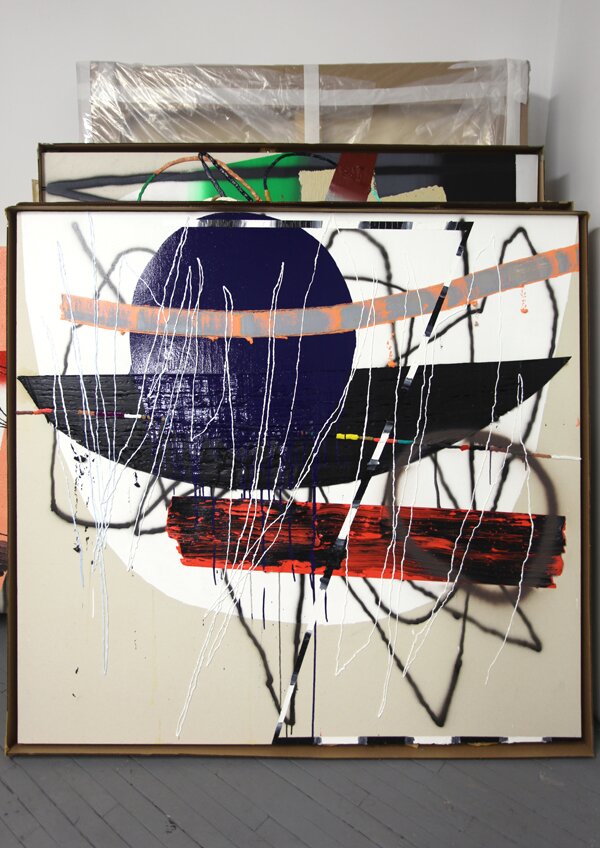 F: You were already doing that but it became more of the subject matter.
T: Yeah I kind of realized that that was what I was doing.
F: How do you apply the marks? It looks like your brush and that looks like you've tubed it out.
T: I've been using a pastry tool to get a thinner line than with the tube. That line I've experimented with a lot.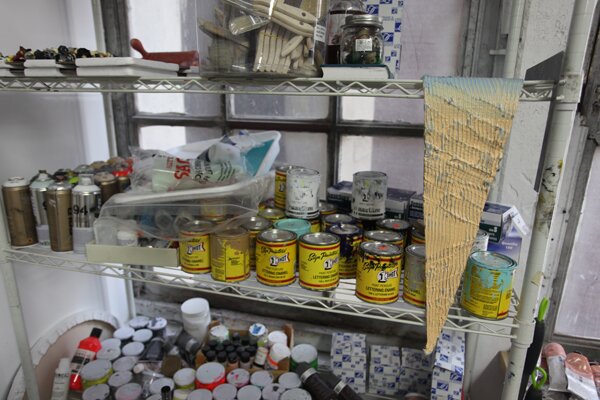 F: There's something really comical about it. There's these falling red candy sticks and this chocolate, it almost reminds me of this cake… I can't stop thinking about it now that you're talking about the pastry tool. So is this the last one you did?
T: Yeah. Sometimes paintings take me several weeks, sometimes it'll take me one week. It just depends on what's happening. This was the first painting I started when I moved into this space and I finished it third to last.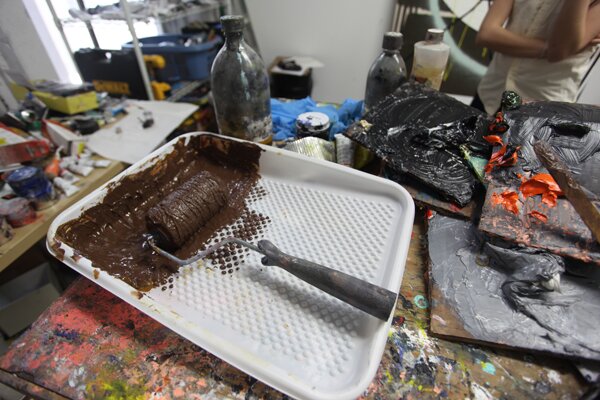 F: How many would you say you work on at one time?
T: As many as I have room for. There's a lot of drying time. I like taping off over top of the oil paint so I always have to wait. For the next step in this painting, I'm going to tape off some shapes. I probably can't work on this painting for two weeks because there's a lot of down time.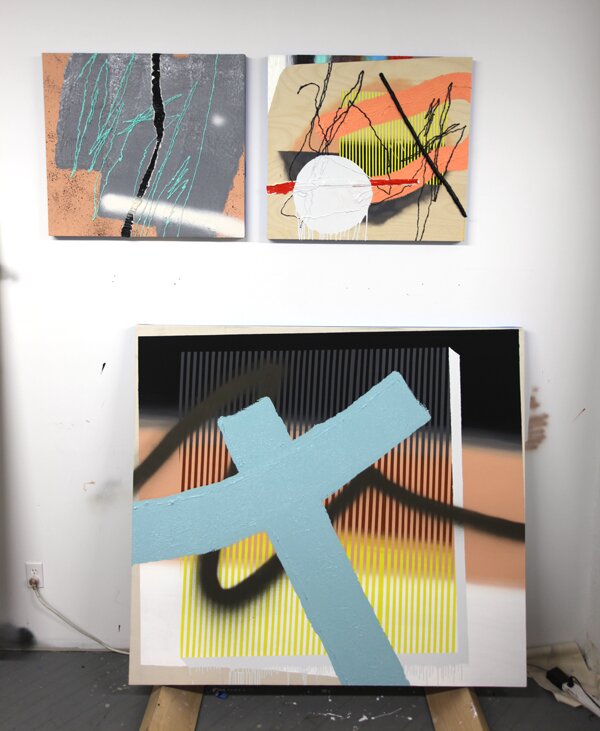 F: So if you do, say, five or six of them, you can kind of go in and out in between them? Do you anticipate the next painterly move you're going to make or do you let it sit and work on the next one?
T: It's different. In the beginning of the painting, it happens really fast and I can do the first four to five moves pretty fast within one to two days and even up to the first oil move. Then after the first oil paint move, I can only think one step ahead. Even if I try, I sometimes forget what I'm planning on doing and I might change my mind too. Sometimes I work on a few different ideas. There's a lot of painting that happens outside of the studio at this point. In the work in my last show, I was using a different medium, so things would happen a lot faster. Now everything is drying slow but I actually like that I can be more selective about what moves I make and I actually enjoy taking more time in between steps.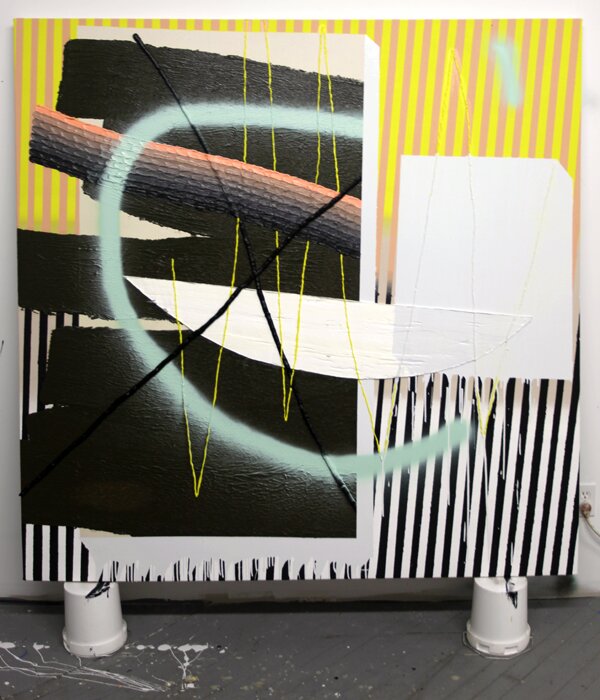 F: It's almost like breathing and allowing yourself to absorb it, instead of going and attacking the surface.
T: And there's a lot more intentions. The works are still intuitive but there's a lot less of going in and filling the space with tons of marks.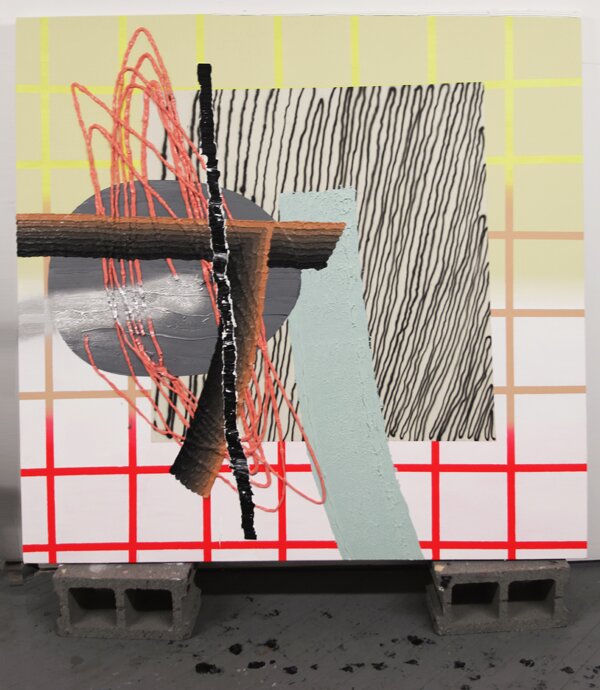 F: It's interesting to see how this one formed because there's a lot of breathing room with this one more than some of these other ones.
T: I wanted this one to feel like all the marks were kind of floating in front of them in the same time. In a small way like when you have just a million windows open on your computer. There's things in front of each other and weird drop shadows. It's a weird compositional idea to have everything in one place in the painting.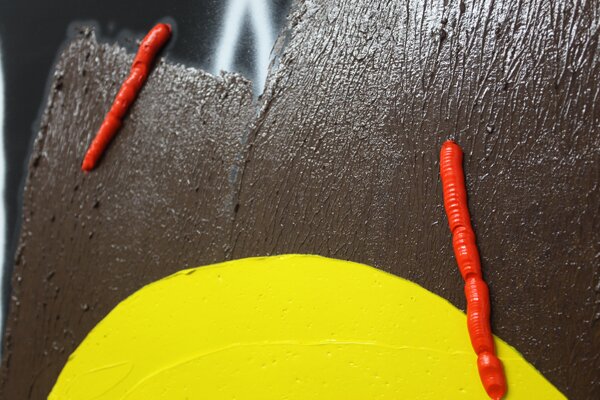 T: One of the most challenging things about this painting is, I wanted to put something there [in the void]. I really wanted a giant circle right there but I didn't want to do that. I was resisting the urge to make an easy composition I guess.
F: At the same time it gives room for this square to exist more fully too. There's this weird play between this computer idea but also the way that the paint is laid on the surface. It has the duality of the logic of the computer but this body plays a huge role in it. I can imagine you making that mark and I think that it can exist physically and it can exist in this digital way too.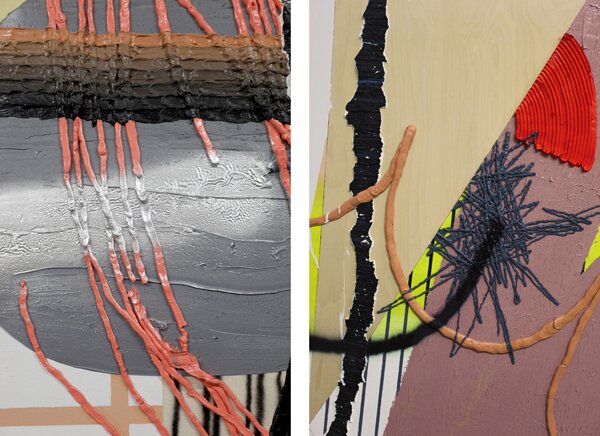 T: I definitely think about those ideas. I feel like going through school and everything, there's all of these different people that are saying to you 'Why are you painting? Why are you making paintings?' I feel like because of the way our generation is raised, it is so much easier to work on a computer. You can just undo and because of that that makes painting so much more interesting. I feel like these are kind of like that. They're influenced by digital imaging programs but they are more of a testament to what painting can do that computers can't do.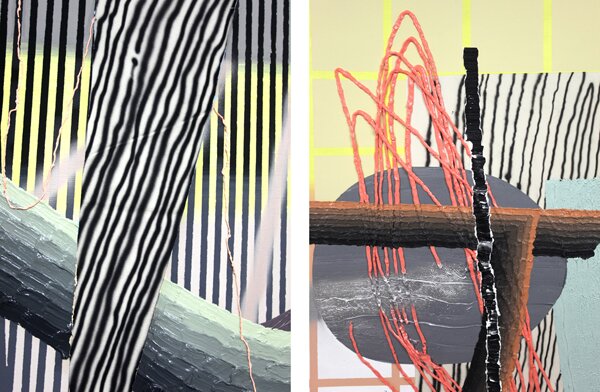 F: Until there's some printer that starts printing out paint!
T: Well, I think that's why some of the most important parts of these paintings are where there's a tape bleed or paint that falls off the brush because the way these paintings are made, I can't clean up that mark without leaving a huge stain.
F: Do you ever think about your work viewed online vs physically and how you deal with that?
T: It's really hard to. Since I moved from my studio in Jersey, I have been having more people in my studio. A lot of people first saw my work online and then saw it in person and there's always a kind of 'Oh, I didn't know there was this much paint' so I think these images can flatten really easily online. They're really hard to photograph. I think it's a lot better to see them in person. Ideally, you would walk into a gallery full of paintings like this, and you can also smell them so I think there's that element to them that's missing big time in tumblr paintings.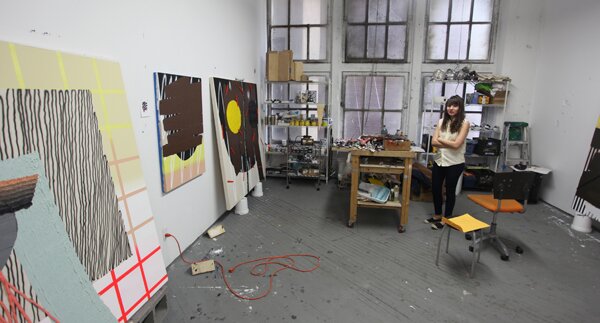 'Trudy Benson : Paint' is up from April 25th through June 2 at Horton Gallery 55-59, Chrystie Street. You can see more of Trudy Benson's work at www.trudybenson.com