Bushwick Open Studios is this weekend May 31 – June 2 and there's an overwhelming number (599!) of group shows, open studios, and performances in the East Williamsburg/Bushwick area. Here are some of our top picks by the next big artists you don't want to miss.
• Parallel Art Space presents: What I Like About You features the work of 19 international artists paired with a piece by a Brooklyn artist along with an explanation of what drew their interest to it.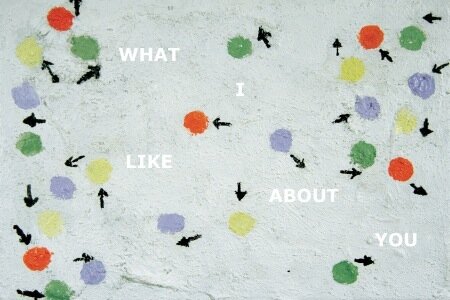 Featured artists include Julie Alexander and Jamie Powell, Karl Bielik and Henry Samelson, Valerie Brennan and Rodney Dickson, Brian Cypher and Michael Voss, Jack Davidson and Frank Holliday, Brian Edmonds and Patricia Satterlee, Justine Frischmann and Clinton King, Erin Lawlor and Lael Marshall, David T Miller and Brooke Moyse, Lucy Mink and Chris Moss, Sean Montgomery and Yadir Quintana, Melanie Parke and EJ Hauser, Julia Schwartz and Sharon Butler, Peter Shear and Katherine Bradford, Wilma Vissers and Tatiana Berg, Ian White Williams and Paul Behnke, Douglas Witmer and Alex Paik, Pier Wright and Meg Lipke, Stephen Wright and Ky Anderson, and featuring: Liz Ainslie, Lauren Collings and Saira Mclaren.
May 31 – June 30, 2013
Opening Reception: Friday May 31st, 6 – 10 pm
Viewing Hours for BOS 2013: Saturday June 1 and Sunday, June 2, 12 – 7 pm
Troutman Studios – 1717 Troutman Street – # 220, link
• Jeff Fichera's open studio
Troutman Studios – 1717 Troutman St. #209 link
• Open studios at 41 Varick #202 with Pratt MFA graduates, Will Hutnick, Kelly Worman, Polly Shindler, Caitlin Peluffo, and Nikki Nolan.
Saturday, June 1st, 2013, 12pm – 6pm
Sunday, June 2nd, 2013, 12pm – 6pm
41 Varick Ave. # 202, link
• Open studios at 1100 Broadway with artists, Leslie Allison, Michael Assiff, Korakrit Arunanondchai, Lily Benson, Trey Burns, Sarah Faux, Scott Goodman, Alexander West Guerrero, Alli Miller, Saki Sato, and Faren Ziello.
Friday May 31st, 2013, 7pm-9pm
Saturday June 1st, 2013, 12pm-7pm
Sunday June 2nd, 2013, 12pm-7pm
1100 Broadway, link
• Distractions, a group exhibition featuring artists, Michael Aitken, BoXer, Brooks Cashbaugh, Mayuko Fujino, Rachel Kremidas, Darren Morales, Kevin William Reed, G. Romero, Ishmail Thoth Ra, Darcy Trunzo, and Jimmy Valdez with dance performance and musical performances.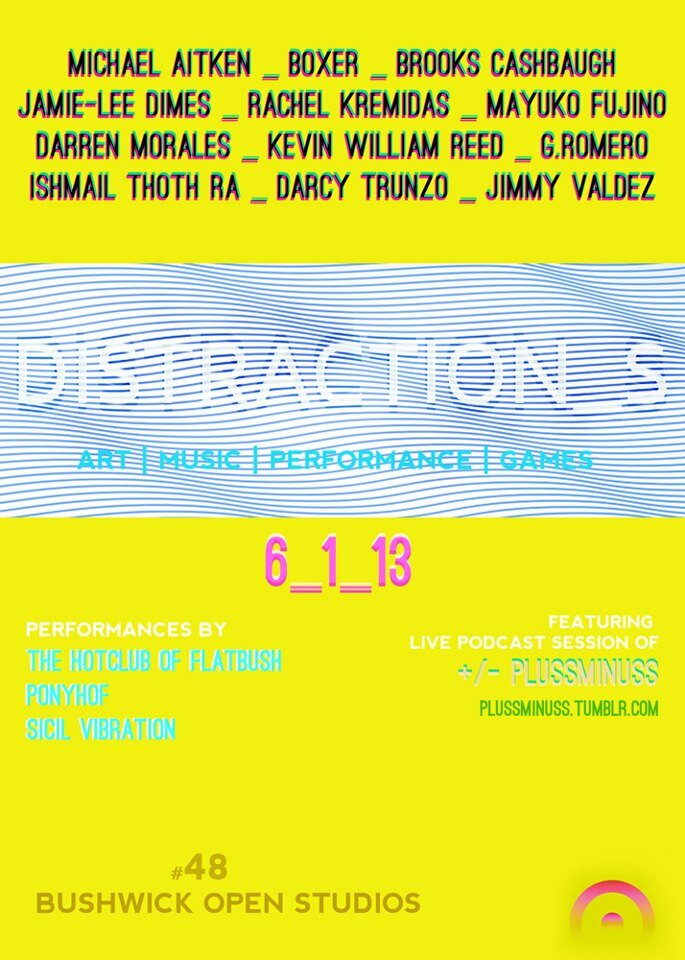 Opening Night: Saturday, June 1st
Exhibition: 6-10pm
Rooftop Concert: 10-4am
257 Varet St. #48, link