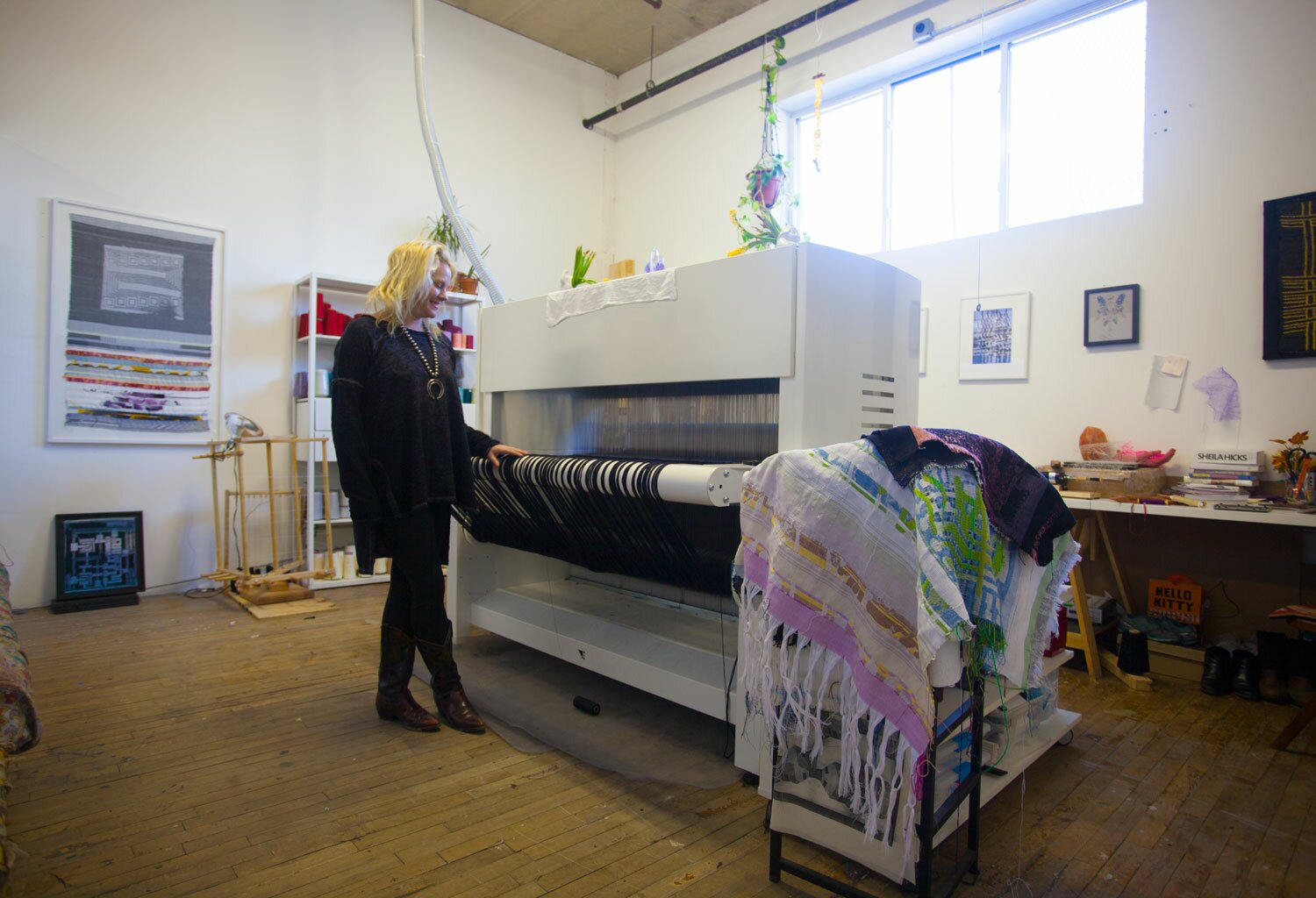 In conjunction with curator and artist, Steve Mykietyn of Orgy Park, we visited Robin Kang's spacious studio located in Ridgewood, Queens.
Focusing on weaving, fibers, and collage, Robin Kang utilizes these various techniques to transport the viewer to a place where the abstract and real meet with all of its plans and imperfections. Enlisting techniques of photoshopping imagery, Robin systemizes this with a high tech loom machine that tells which parts of the threads can go up or down according to the imagery. Her practise takes on modes of research in very tactile ways that absorbs the viewer into touch or ideas outside of fine art and into craft and pattern. We talked about her process, the history of weaving and how digital technologies have played a role in her work.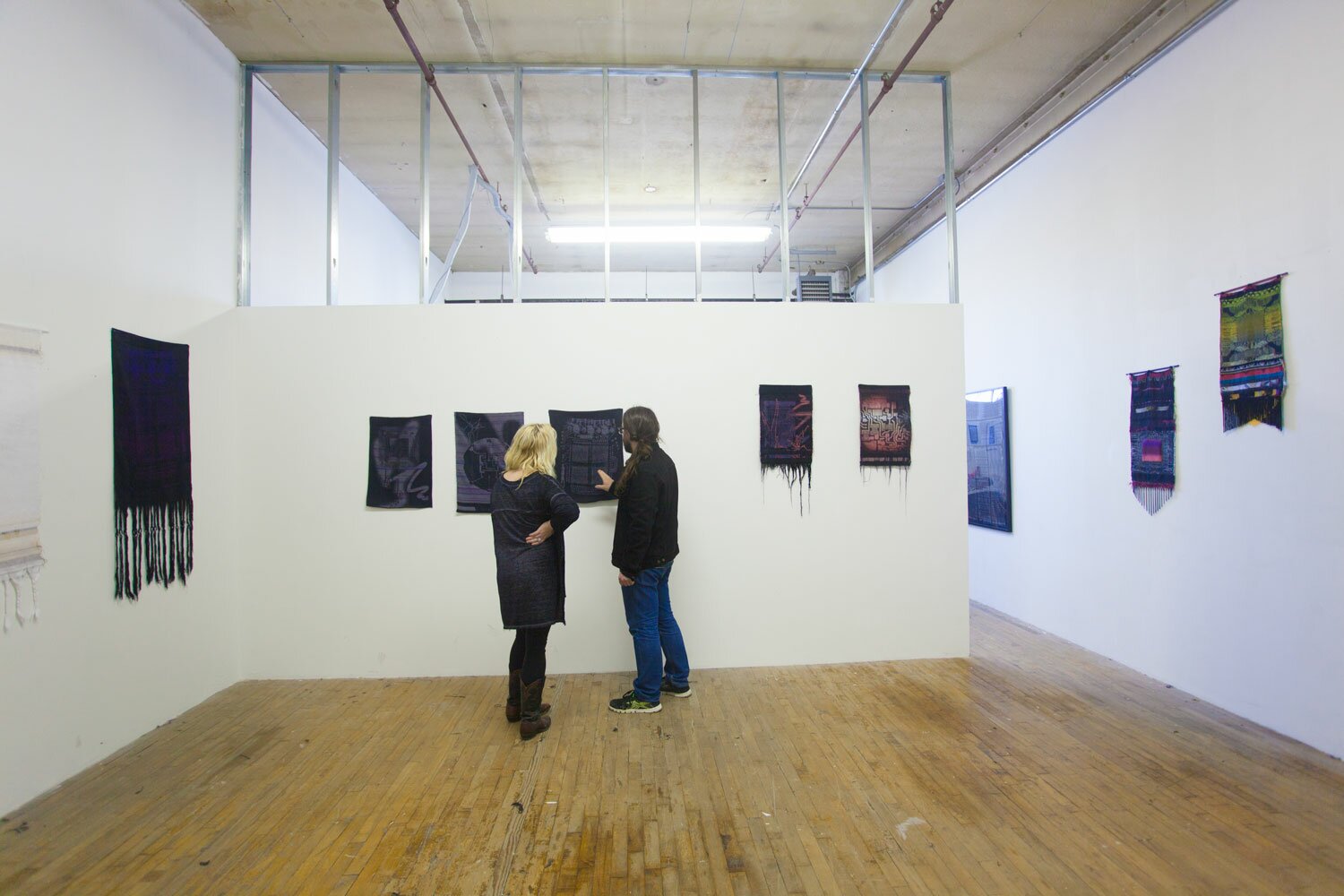 F & S: Can you talk about your process?
R: As in all weaving processes, there is a considerable amount of time and work that goes into the setup of the loom. Warp measuring, winding, and threading can take months. Usually, I wind on very long warps that will then be used for several projects back to back. With the loom set up, each work begins with a research and digital sketching stage. Source material from my research on early computer hardware and historic ethnographic weaving symbolism become a jumping off point for my digitally generated images. After I'm satisfied with an image, it gets translated into a series of weave structures made up of black and white pixels. This is the binary language that my loom understands, either the thread lifts or stays down. Currently, I am using a TC-2 digital Jacquard loom, which utilizes an exciting mixture of contemporary technology and hand weaving. Then, I hand weave a series of tests for the file with different potential yarn colors, textures, and variations. Each weft thread is woven by hand, so there is creative freedom for changing colors and using unusual materials as well. Selections from these tests will become the final works.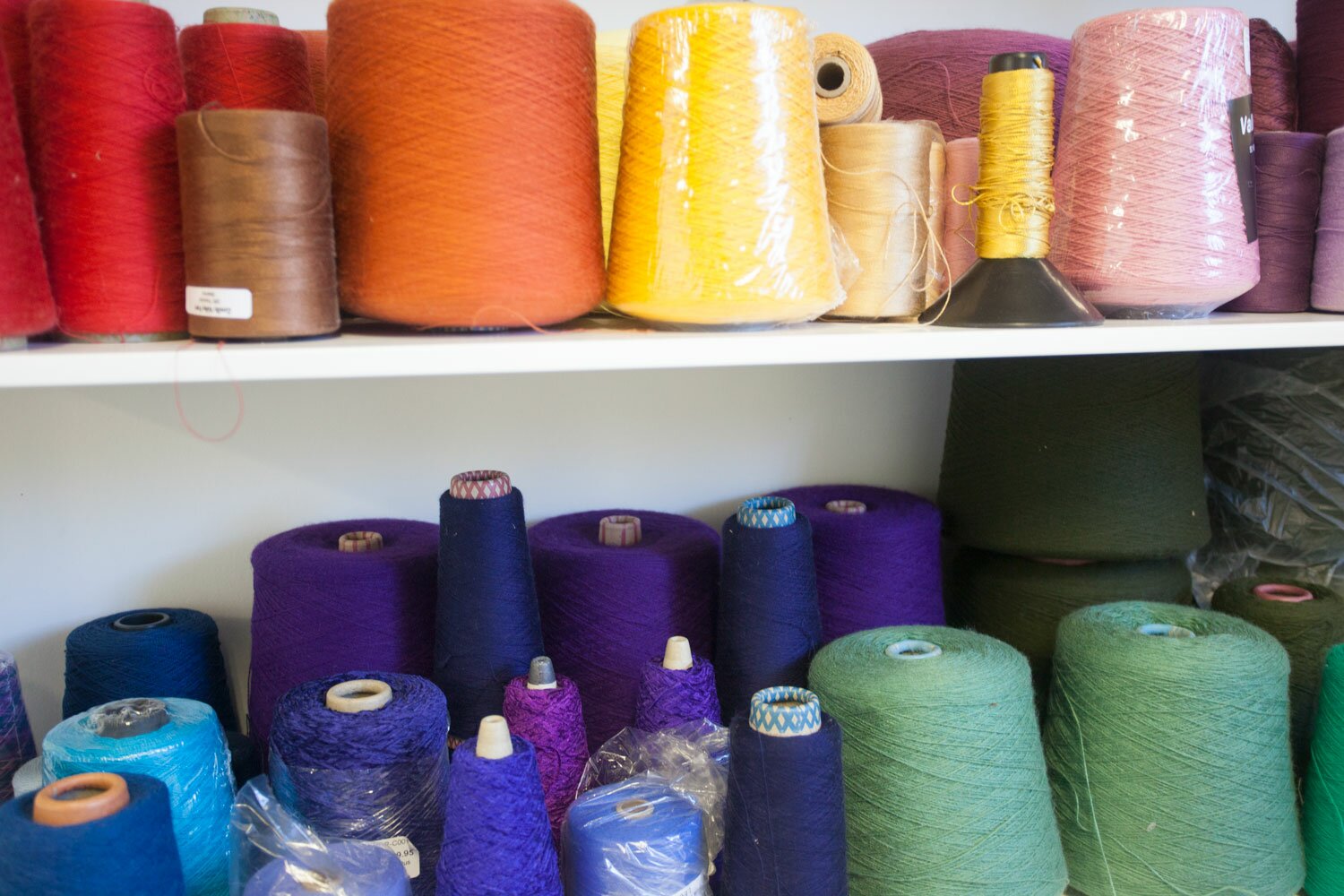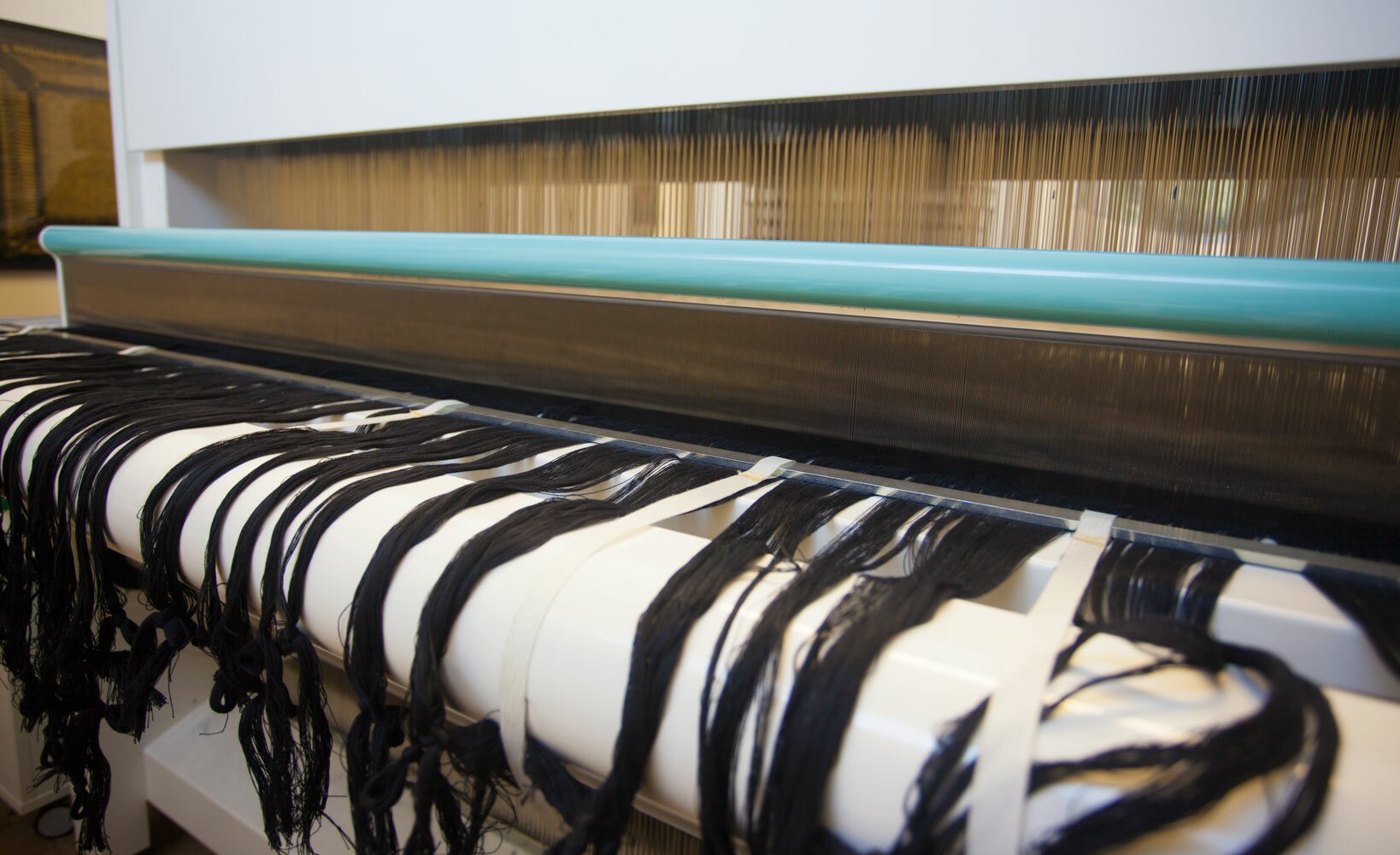 F & S: What inspires your interest in making artwork?
R:I'm very interested in the history of weaving and its connections with memory, technology, and communication all conglomerated within an object of usefulness. Additionally, I find satisfaction in the rhythmic and repetitive process of creating the cloth. Cultures all over the planet have engaged in various forms of weaving for centuries, so it is a deeply rich craft to study.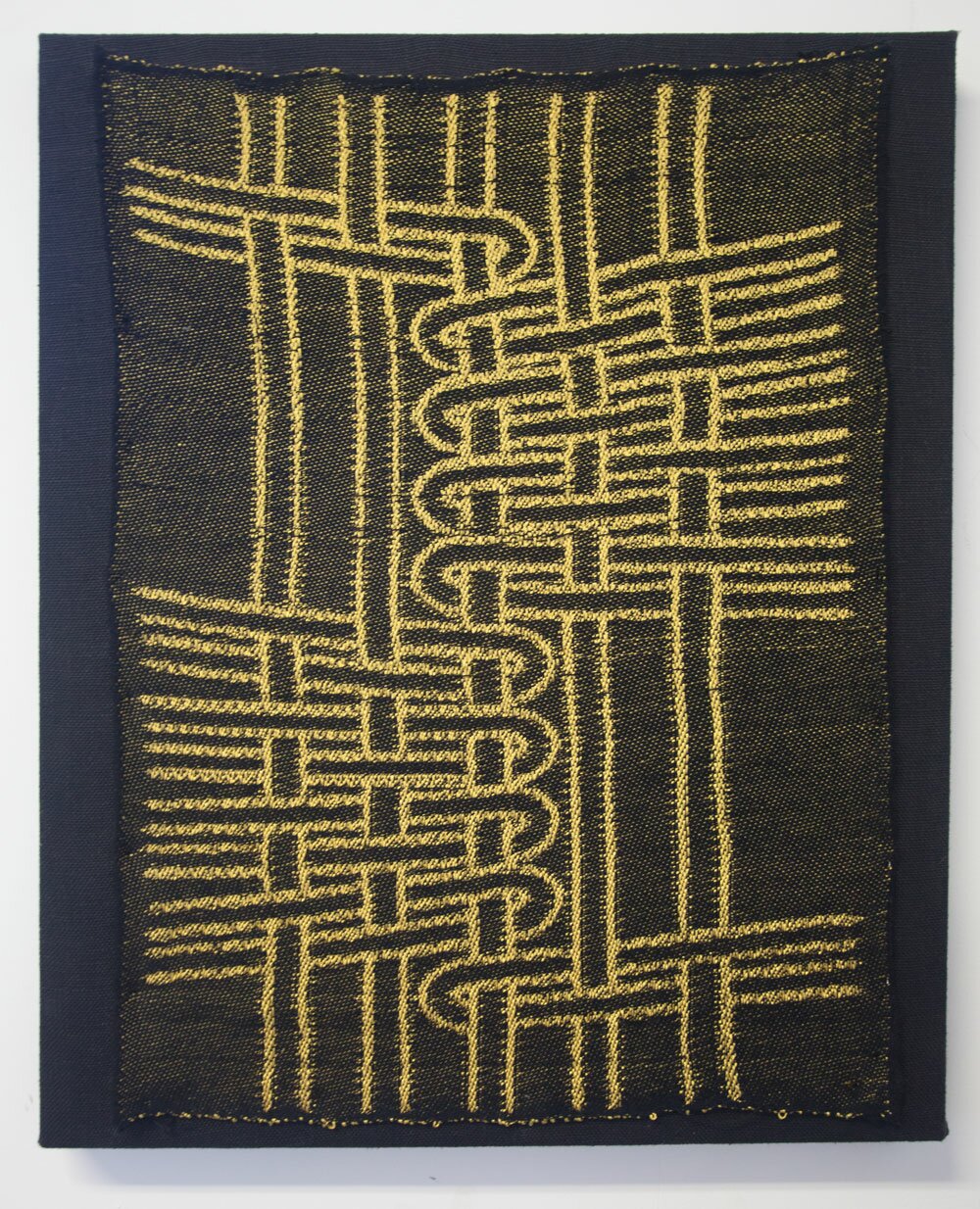 F & S:How did you go from working with collage and printmaking into weaving?
R:My background with creating compositions digitally is very important for working with this particular type of loom since there is a considerable amount of process that goes into the file set up. In a way, it lead me to it. I found myself creating prints that were referencing patterns inspired by textiles and pixelated grid related structures. Learning to weave was a logical next step. There are many similarities with the two process-heavy mediums that still allow for a wide range of improvisation. Now I'm able to create digital images with interlocking threads instead of ink!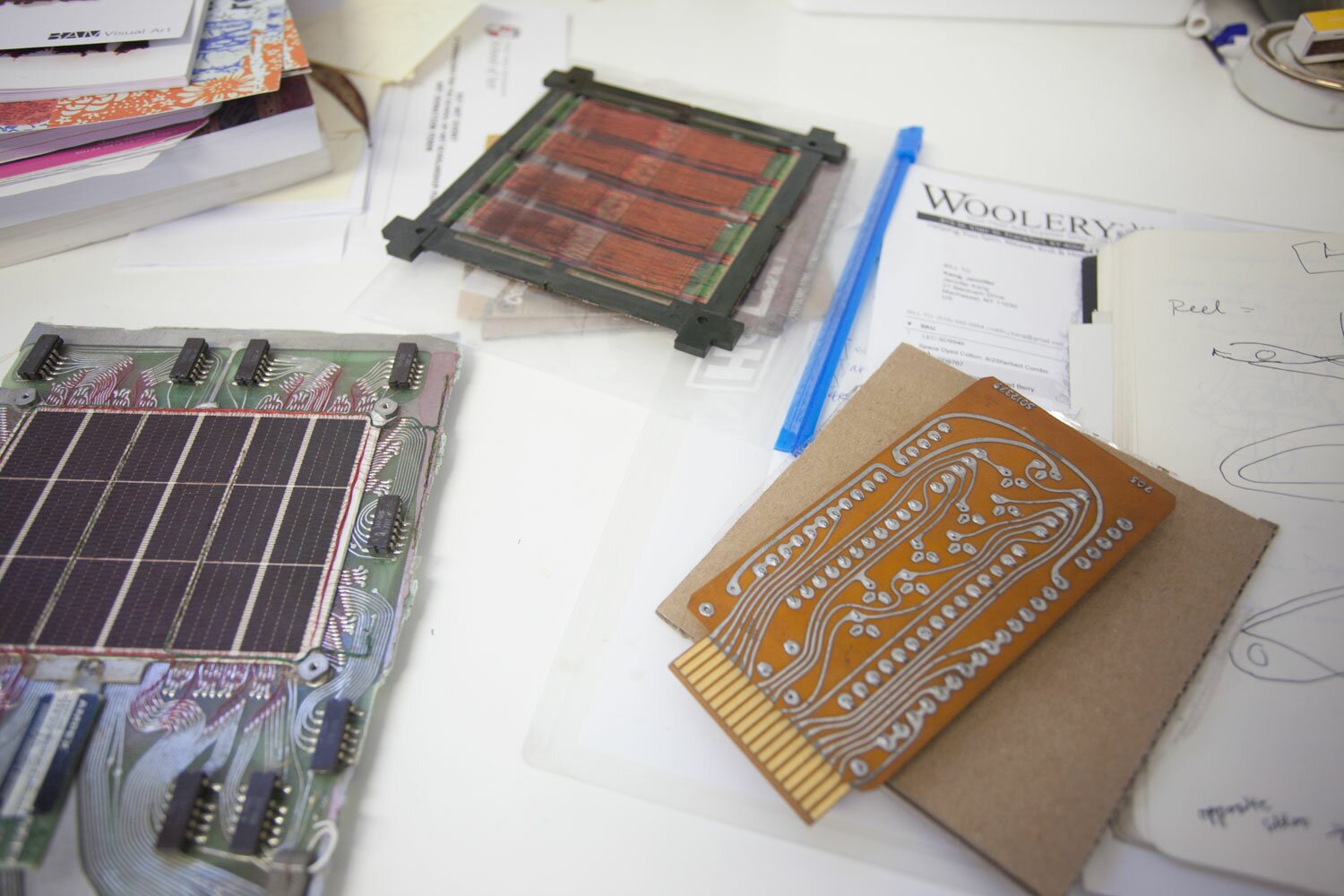 F & S:The reference images that appear in your wall pieces come from early technology, can you talk a bit about your findings and decision process?
R:The Jacquard loom has a historical relationship to technological development, and argued by some to be an ancestor to the invention of the computer as it was the first machine to use a punch card system. Additionally, there was a moment in computer history when computers stored data in woven copper wire grids called Ferrite Memory Cores. Researching these beautiful and often hand woven early computer parts became a source of inspiration.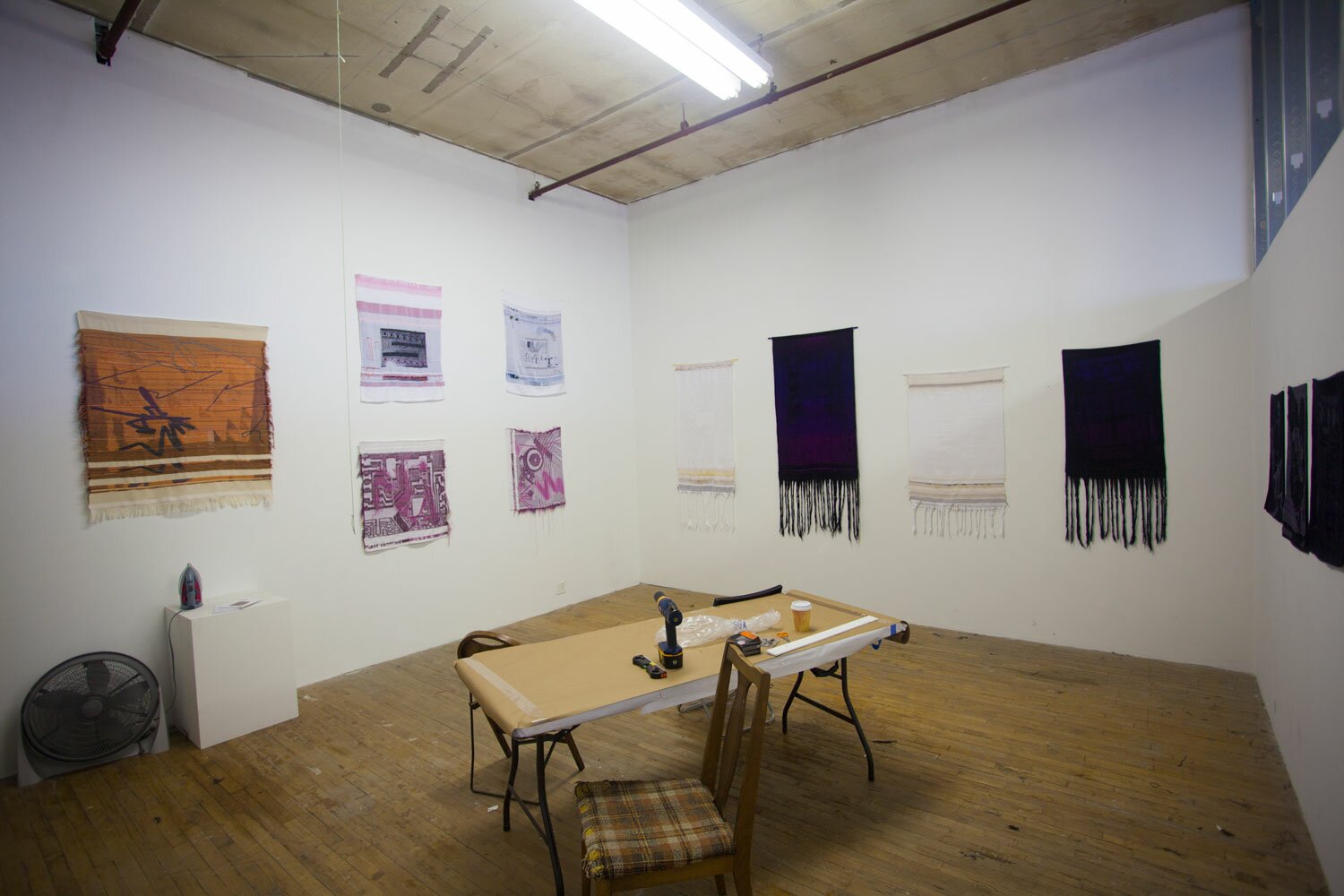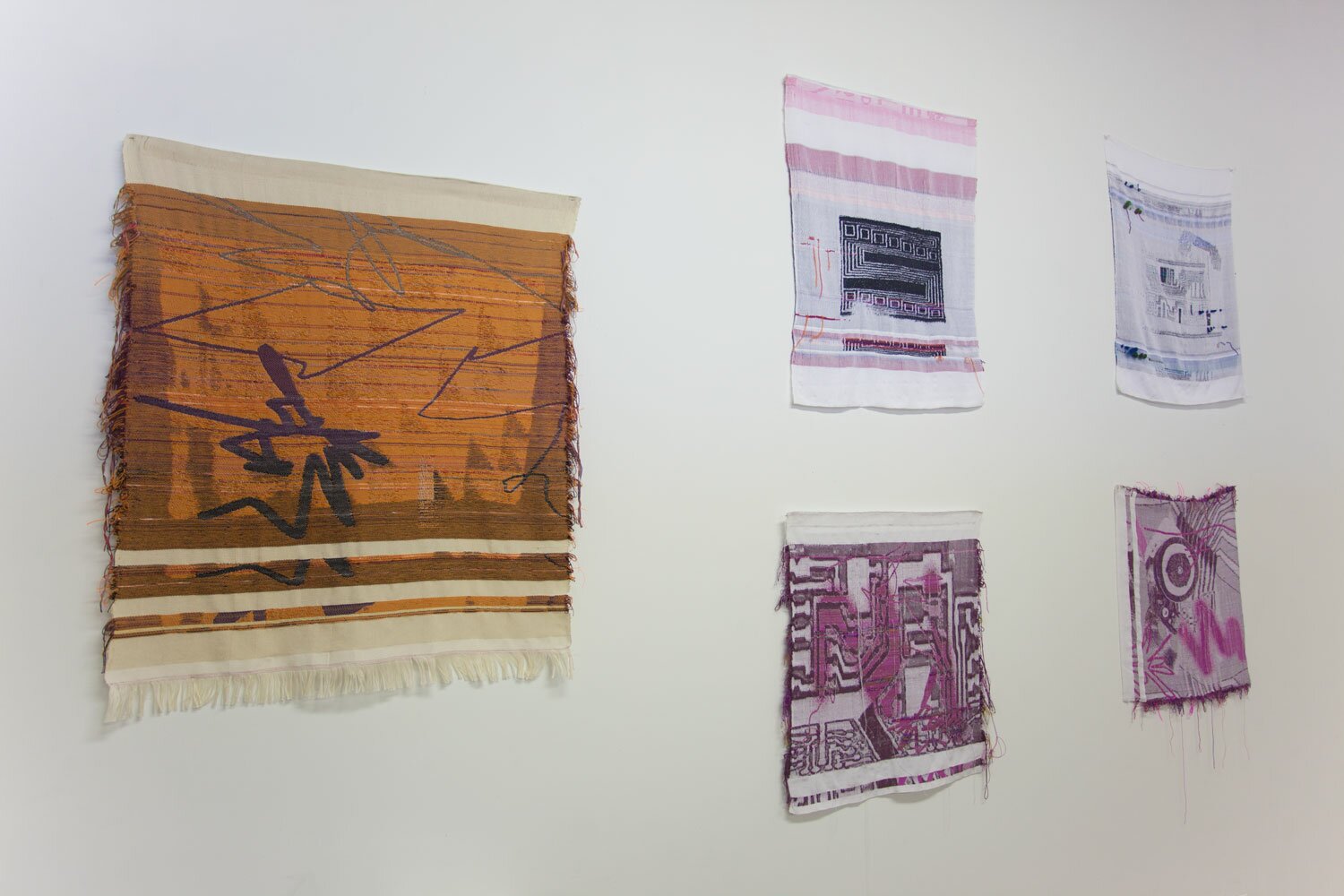 F & S:You recently bought a loom, what new things do you think it will inspire you to create?
R:After utilizing similar looms in another location for several years I decided to take the plunge and get one. Having access to this amazing tool whenever I want has proved so far to be invaluable for the amount of works that I have been able to produce. Additionally, my loom has a capability to weave projects up to 58" wide, which opens tons of possibilities for future projects. It still very much feels like a shiny new toy for me with so much to explore!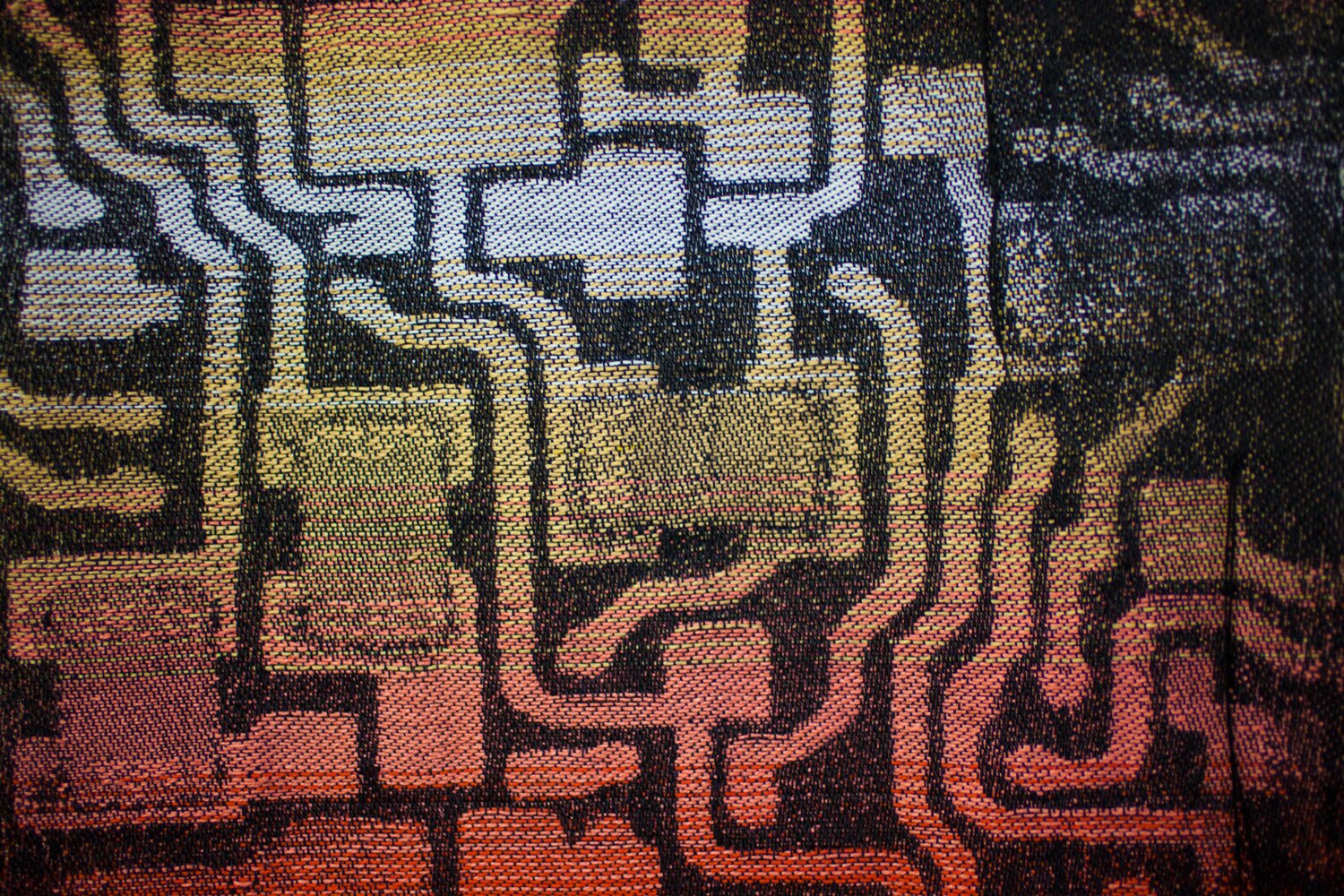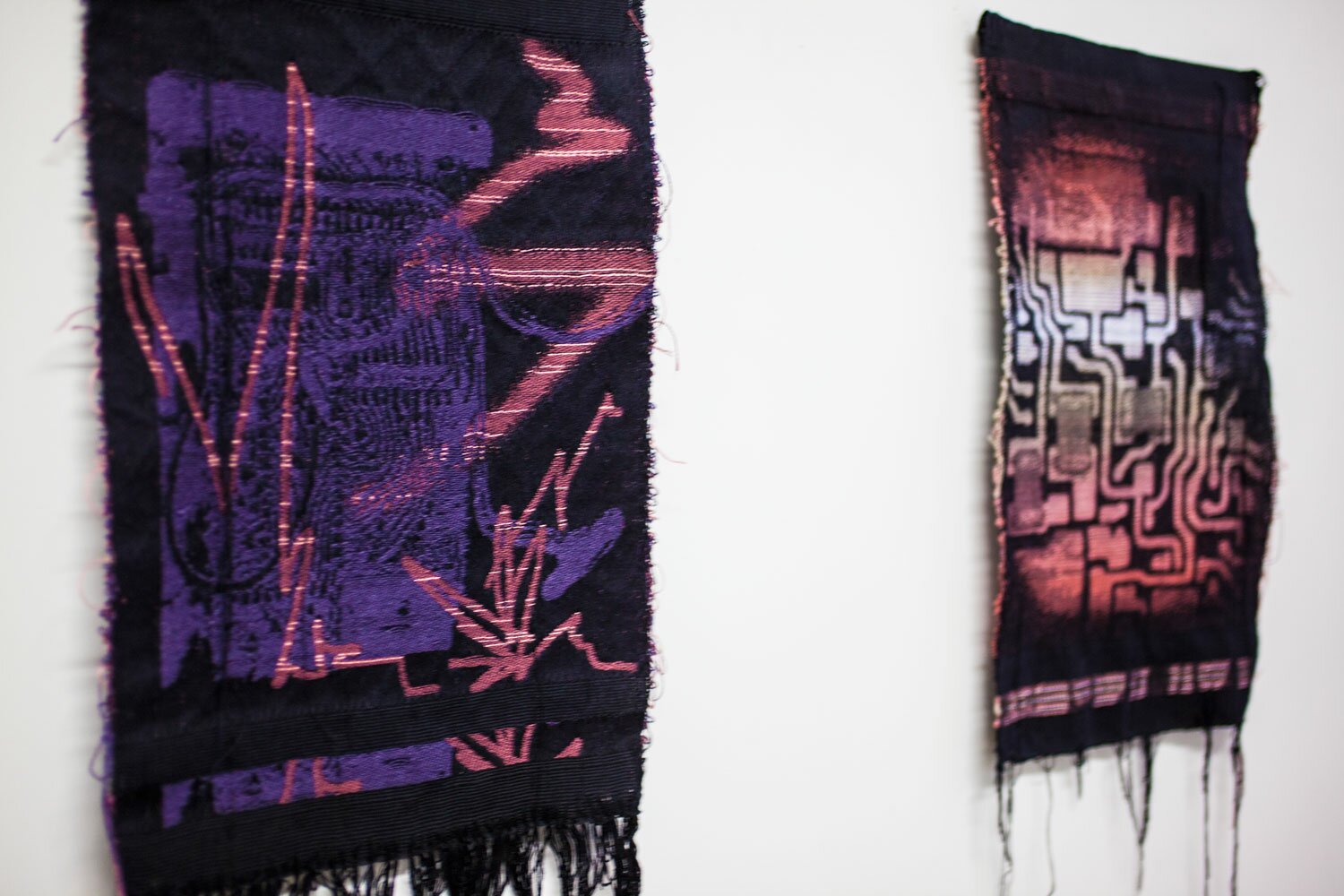 F & S:You are also involved with organizing and curating art shows can you talk about your ideas with these? How do you feel that informs your practice?
R:While in grad school at SAIC I ran a small apartment gallery called the Carousel Space Project. I learned so much from that experience and really enjoyed working with other artists that I admired. When I moved back to Brooklyn, I looked for ways to engage with the flourishing Bushwick community in the same way. When a space connected to my studio opened up, I was in the setup stage with my loom so I decided using it for pop-up exhibitions would be a much needed creative outlet. That project space, and also my loom, have been named Penelope. Curating is something that I really enjoy, and I think it's important for the artist community to have non-commercial exhibition opportunities that encourage experimentation.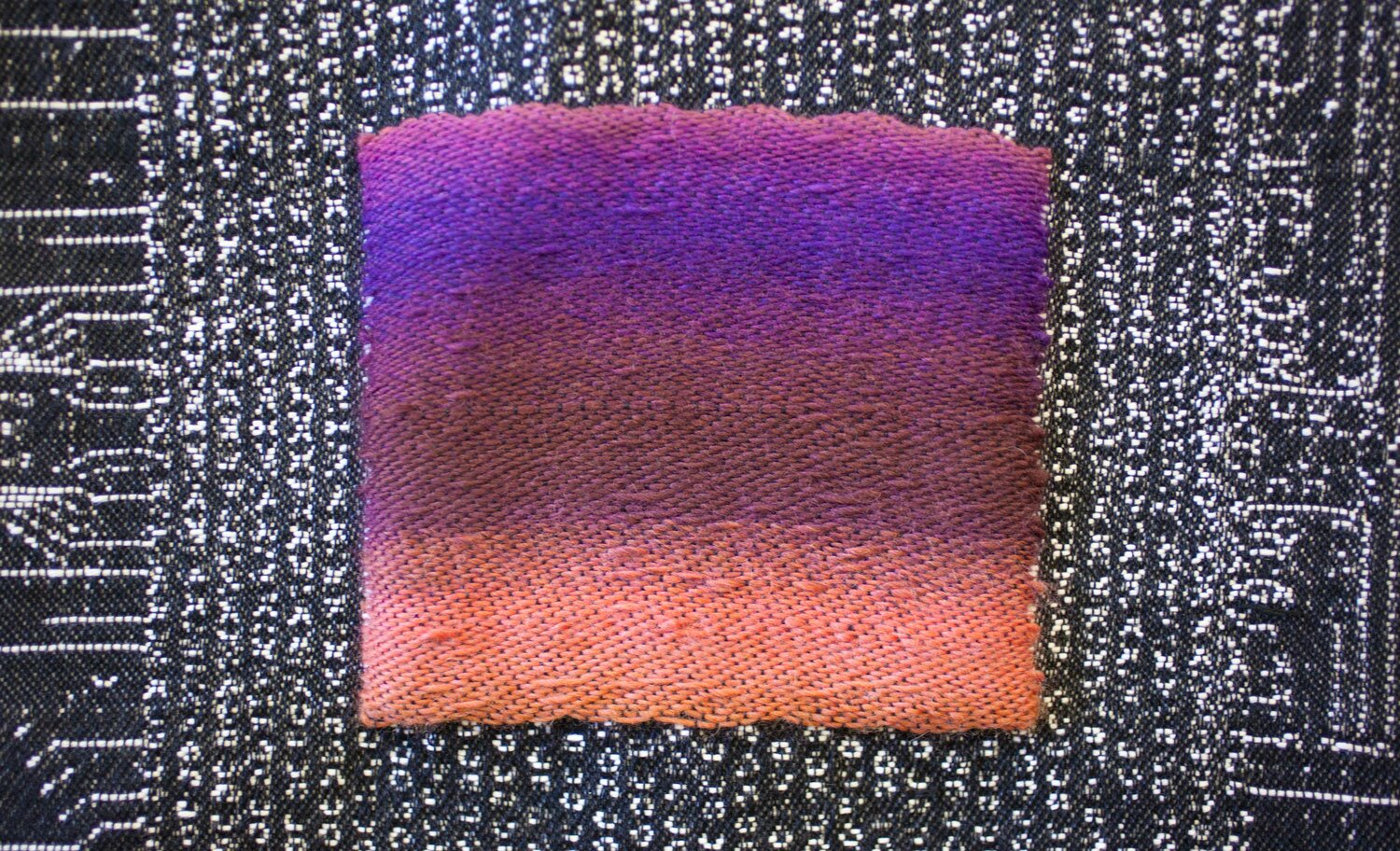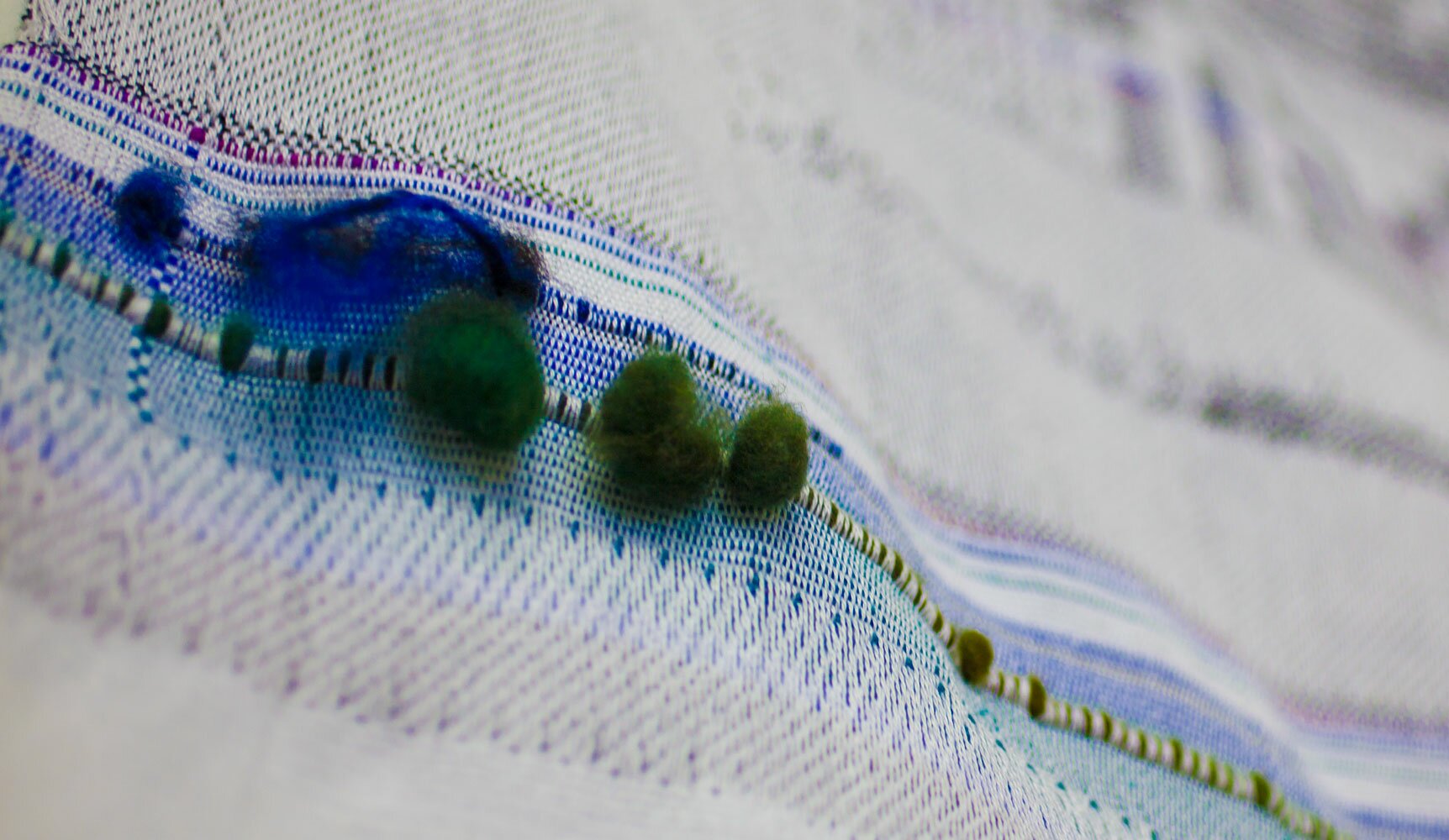 F & S:Are these designs created on photoshop or another digital process? How do you anticipate the translation between the digital set up/digital drawing and then the process of physically weaving them?
R:Though I usually use photoshop, there are several ways that you can approach creating files that are compatible with the loom. The process involves a series of steps that translate digital images into weave structures. These determine the way the threads interlock and which ones are visible on the surface of the cloth. Then, the hand weaving aspect is actually very similar to that of a floor loom, using shuttles and bobbins of chosen weft yarns. The exciting part of the process is that, the translation from computer to weaving is never exactly what you expect. Every step has a surprising amount of variables that can drastically change the outcome of the final weaving.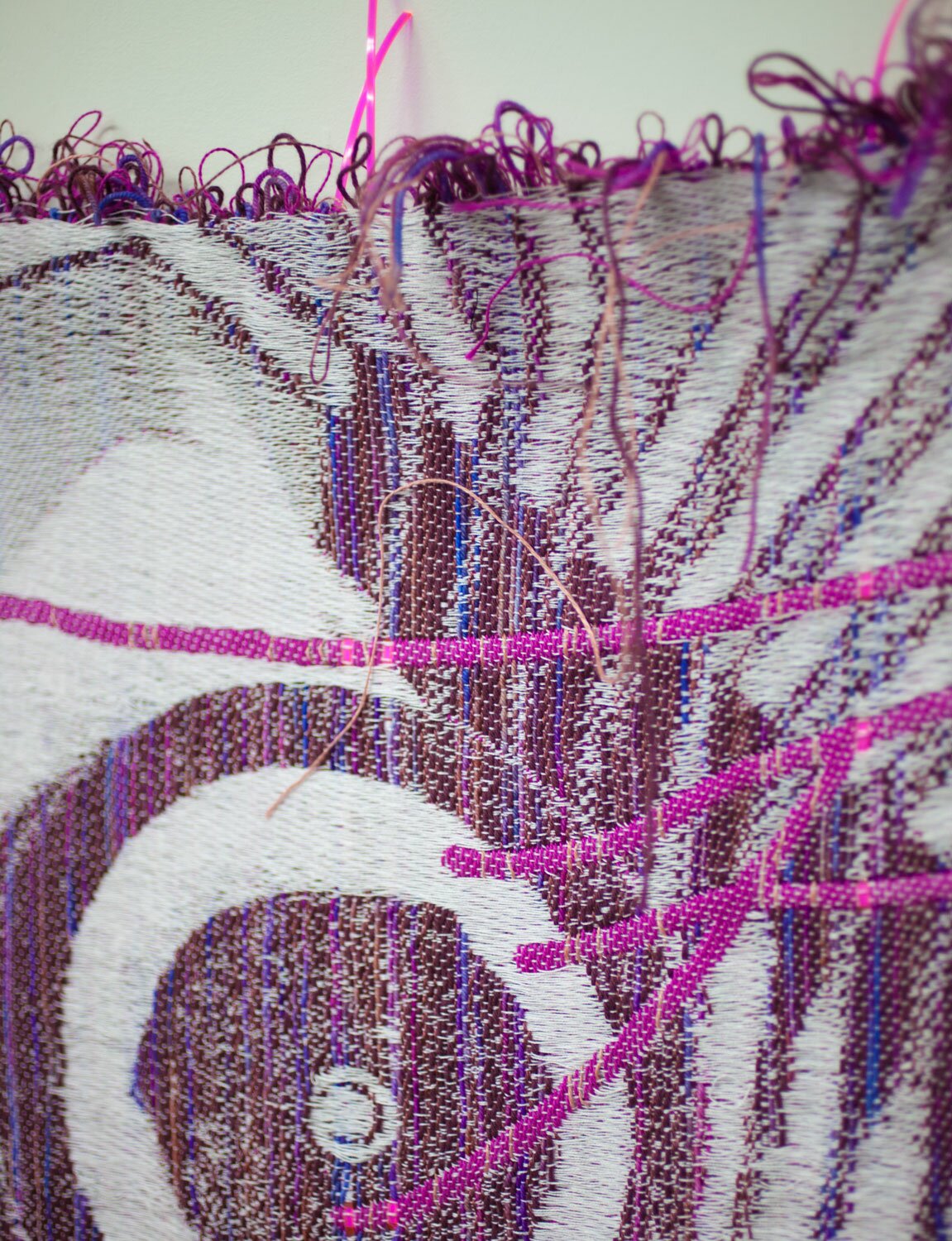 F & S:There is a long history of weaving and see a juxtaposition or even an inherent conflict between the process and application. Do you see it as a conflict between this digital and physical thing or more of an extension of a long lineage of weaving and a logical next step?
R:I see what I'm doing as highlighting the relationships that have already existed between two seemingly unrelated fields. For me, it feels like a logical next step that blends processes from the past, present, and potentially the future. Manifesting something tactile from the digital is really exciting.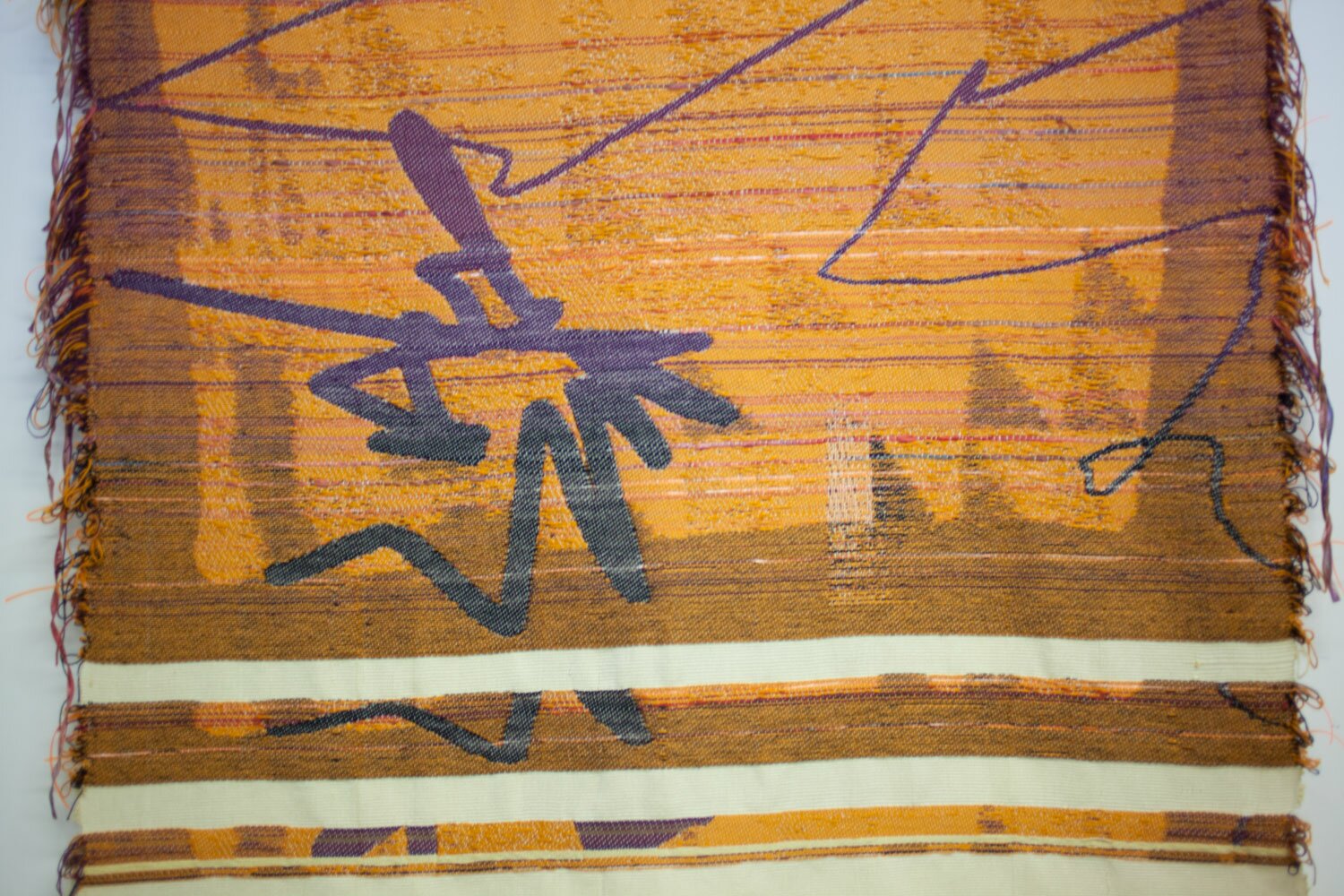 F & S:In our visit you hinted at certain traditional 'correct' ways of going about weaving in order to achieve a certain amount of 'good craftsmanship'. How do you navigate through this with the long history of weaving and still have the ability to explore the the material?
R:Compared to lifelong weavers, I'm still relatively novice in terms of certain aspects of craftsmanship that takes years of considerable practice to develop. So, I decided to embrace my mistakes as part of the beauty produced by a handmade process. Sometimes I choose to even highlight these errors by leaving dangling broken threads or wild messy selvages on my finished works. They are handmade glitches, and sometimes I find the mistakes are the best part.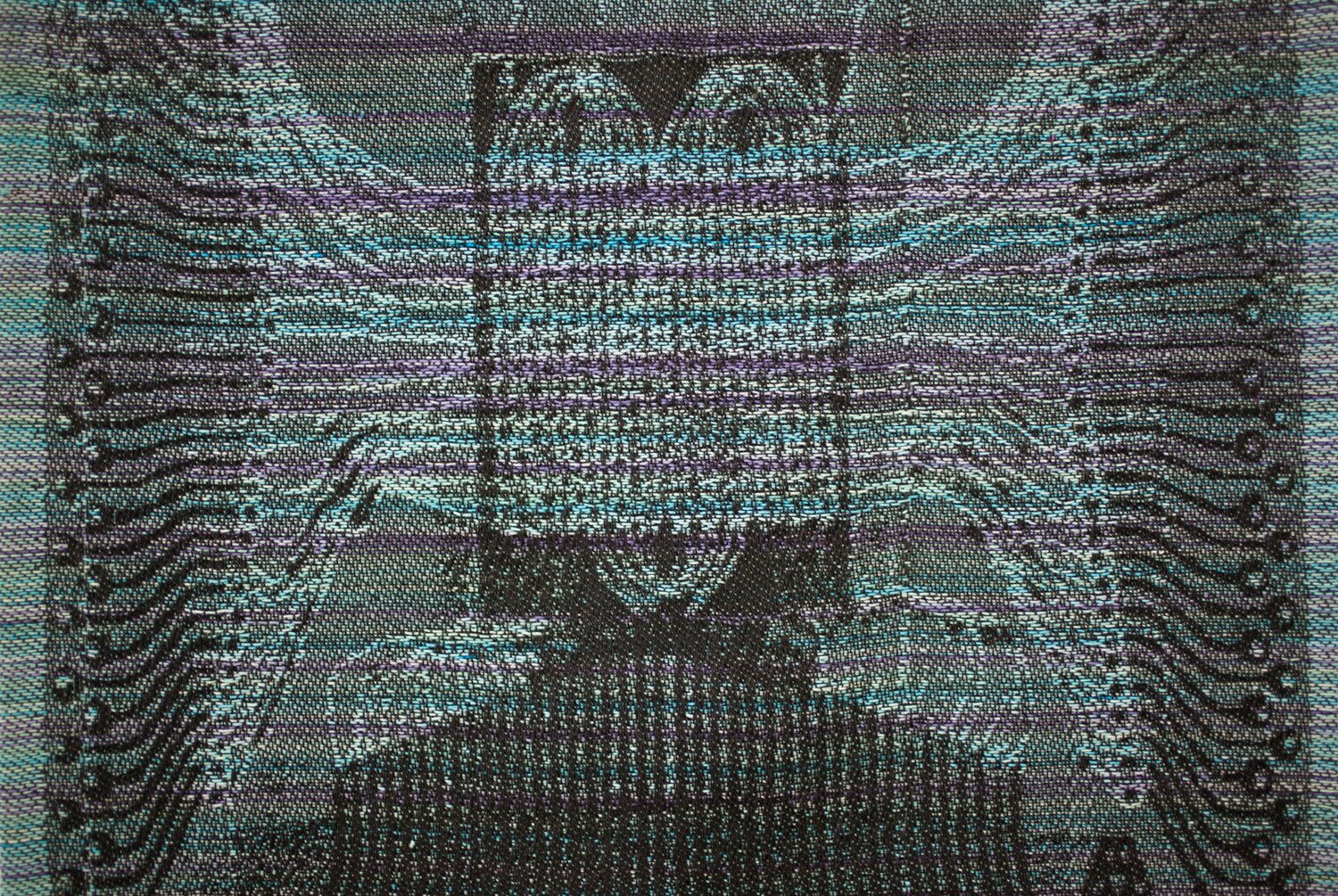 F & S:Your work hangs on the wall reminiscent of antique rugs, very much objects found in craft or collectables, how has your dialogue developed working alongside these sets of formal composing ideas?
R:So far I have used the mode of presentation to play with various ways a viewer may have interacted with textiles in their past. For instance, a precious antique cloth at a museum might be framed under glass or carefully hand stitched to stretched linen, while a folk art tapestry might hang in a home from a dowel rod. Different works seem to call for different presentation modes that fit their personality.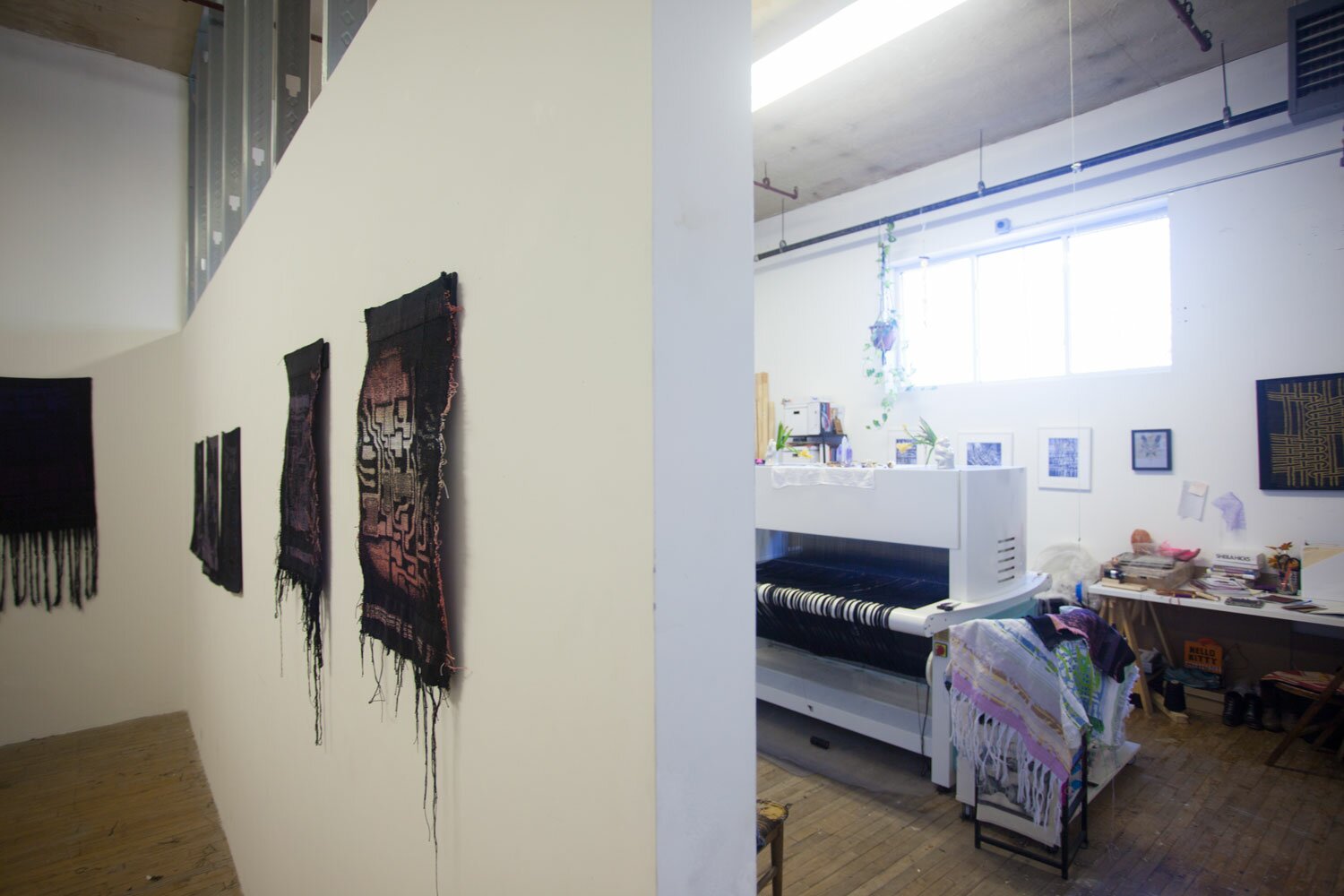 F & S:What can we see from you in the future? What projects are underway?
R:I anticipate a long summer of quality loom time weaving some new projects that I've recently designed. Additionally, there are a few curatorial projects currently on view in Brooklyn (Static Cling 2 at BAM, Neo-Craftivism at The Parlour Bushwick) and an upcoming one in the Upper East Side. The fall will also be busy with an amazing group textile exhibition in LA and a great lineup at Penelope. Details for all of these can be found on my social media outlets.
You can see more of Robin Kang's work at robinkang.org.