Mike Schreiber's pieces look deceivingly light and airy hanging up on the wall with many of the pieces covered with perforations and textured paint. Upon closer inspection, we found that they were actually made of thick slabs of quartz which he would find scattered around on the street, for free, as if finding slabs of stone was like finding four-leaf clovers. He would then paint, drill holes, cut lines, and even grommet the quartz to create his final textured and complex pieces.
Located in the Brooklyn Fire Proof building, Mike Schreiber's studio is found just beyond a wall, inside the Group Club Association (GCA) gallery. The front half of the space acts as a gallery space that he runs with his partner, Mary Kosut. To get to Mike's studio, we first have to walk through the gallery. When we visited, the show 'Viewing Room' with work by Cooper Holoweski and Clive Murphy was on view. In keeping with the shows theme of domesticity, we walked over pristine white high pile carpeting specifically installed for the show. Beyond the gallery space, we entered Mikes personal studio. In contrast with the white space that is GCA, Mike's studio is clearly a workspace with multiple "stations" located around the room where he can drill holes and paint.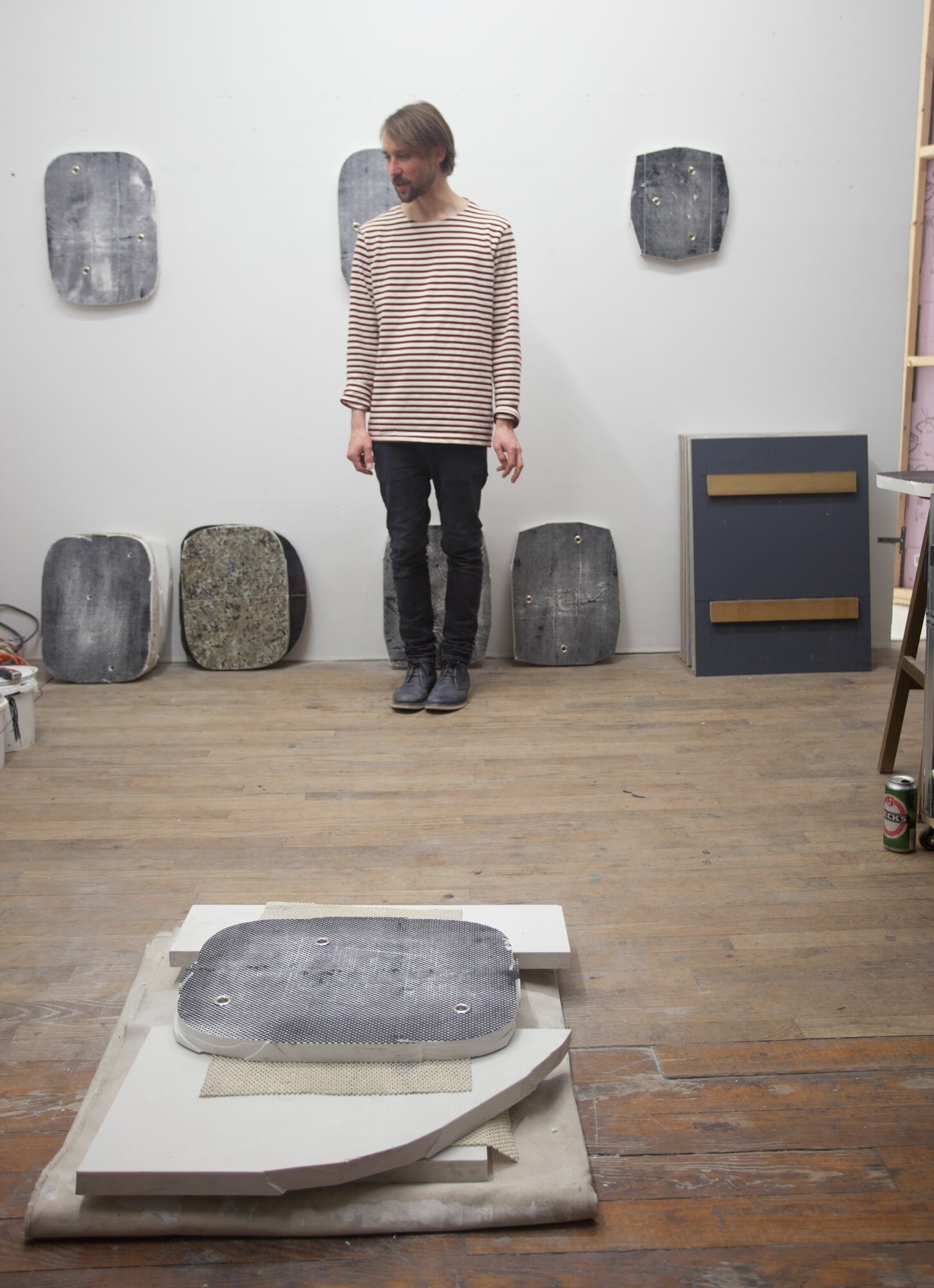 Can you talk a little bit about your process? Your work seems to tread between printmaking, painting and sculpture.
I'm a painter. We take a lot for granted. However, I believe that every aspect of an object
must be considered. For example, painters tend to make major decisions without stressing the things a sculpture-oriented person would be concerned with from the start – like scale, materials, placement, and space. I care about these things more and more. All of it nags at me. I'm always playing with ratios and the way my work interacts with the viewer, and connects to other works, and the way it changes the space it occupies. My recent stone paintings solve a lot of problems for me.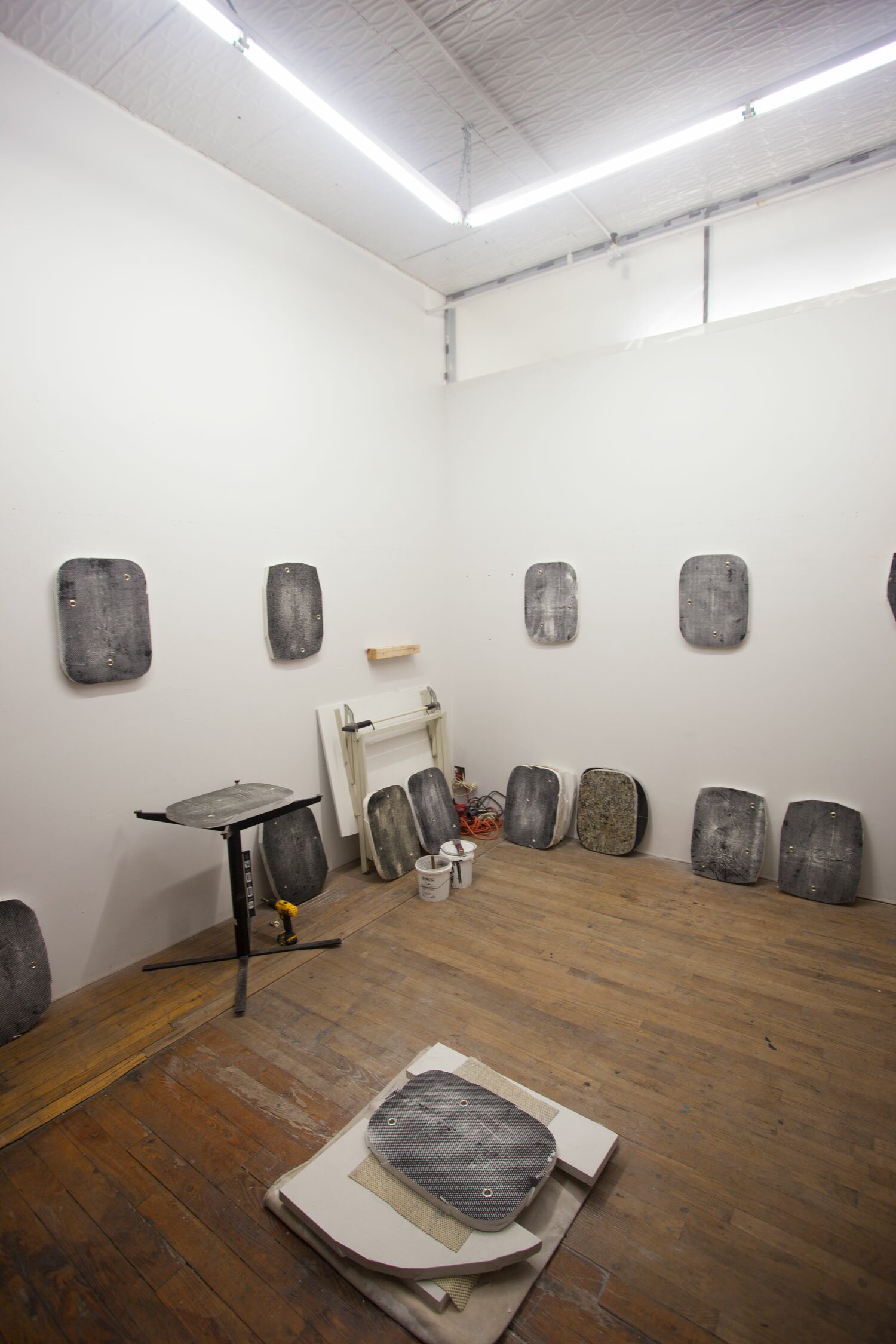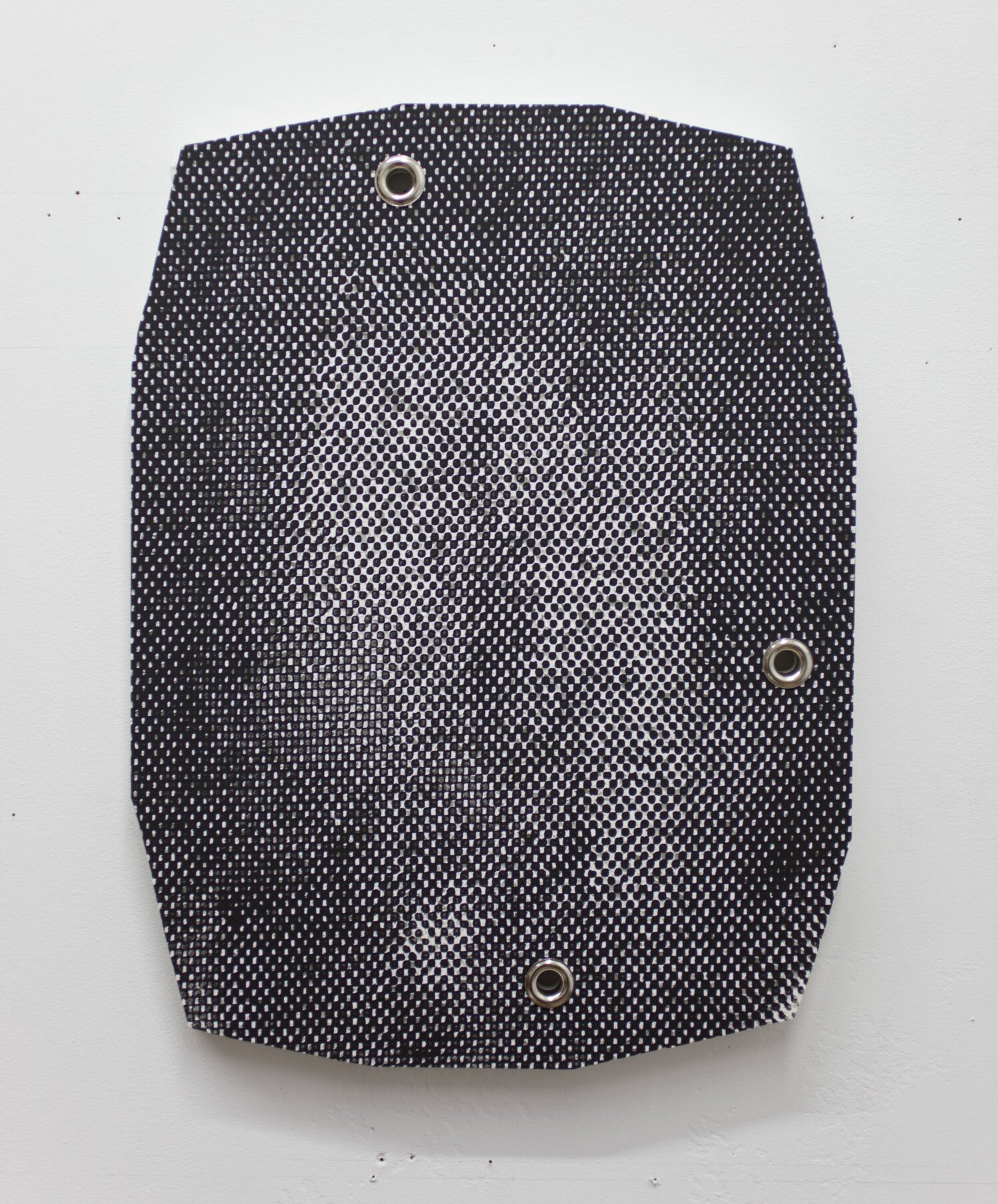 Immediately when I walk in the room, I'm confronted by these slabs hanging on the walls but I'm not sure what the materials are. In closer examination, I realize that they are all marble slabs. Is the material intentionally obscured with the process?
I love that idea of obscuring. I hadn't thought of it that way. The slabs are actually a quartz material used in residential kitchens. And these lozenge shapes are the cutouts of sinks. The stonemasons around here have no use for them, so they put them out on the street. That's how I originally found them.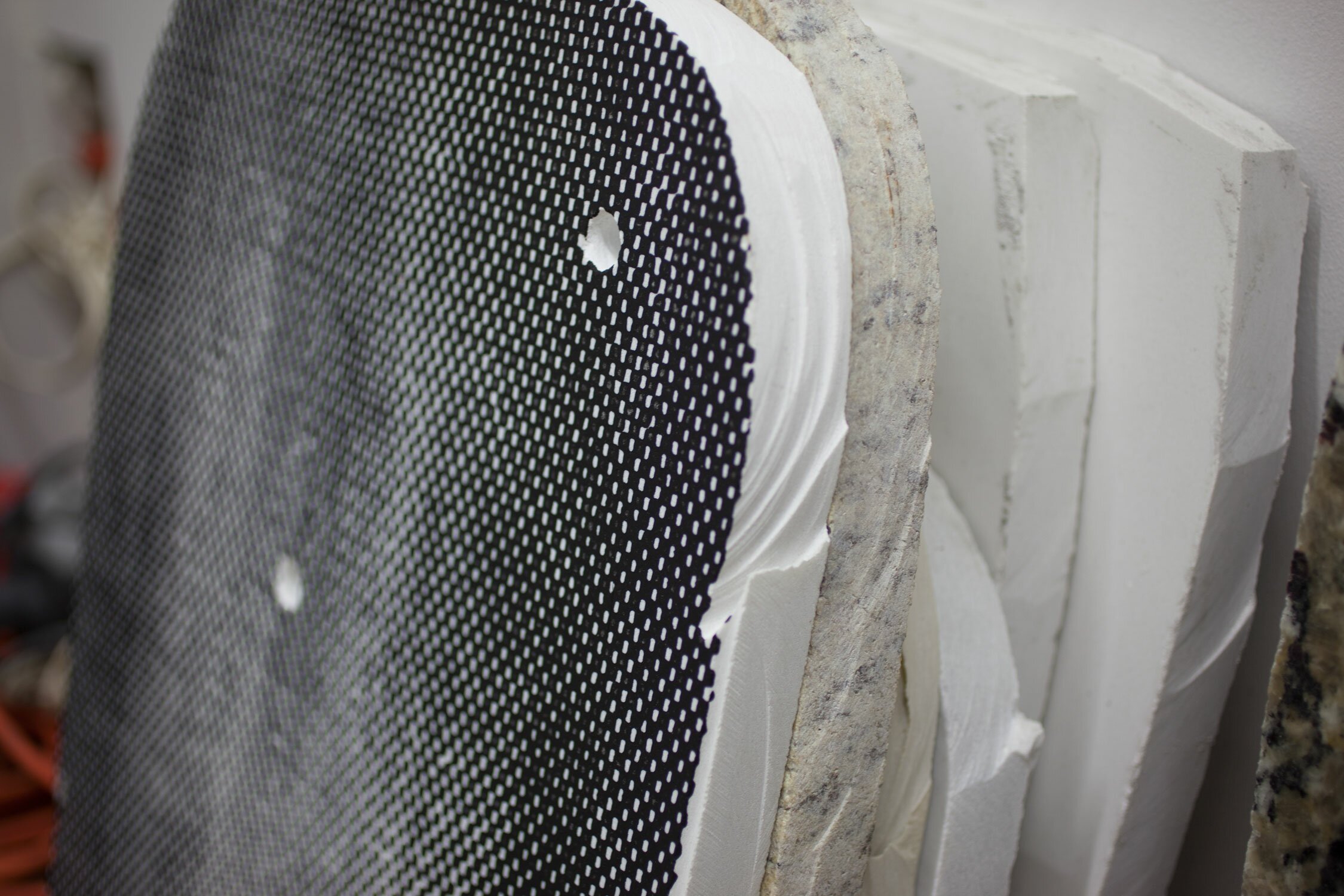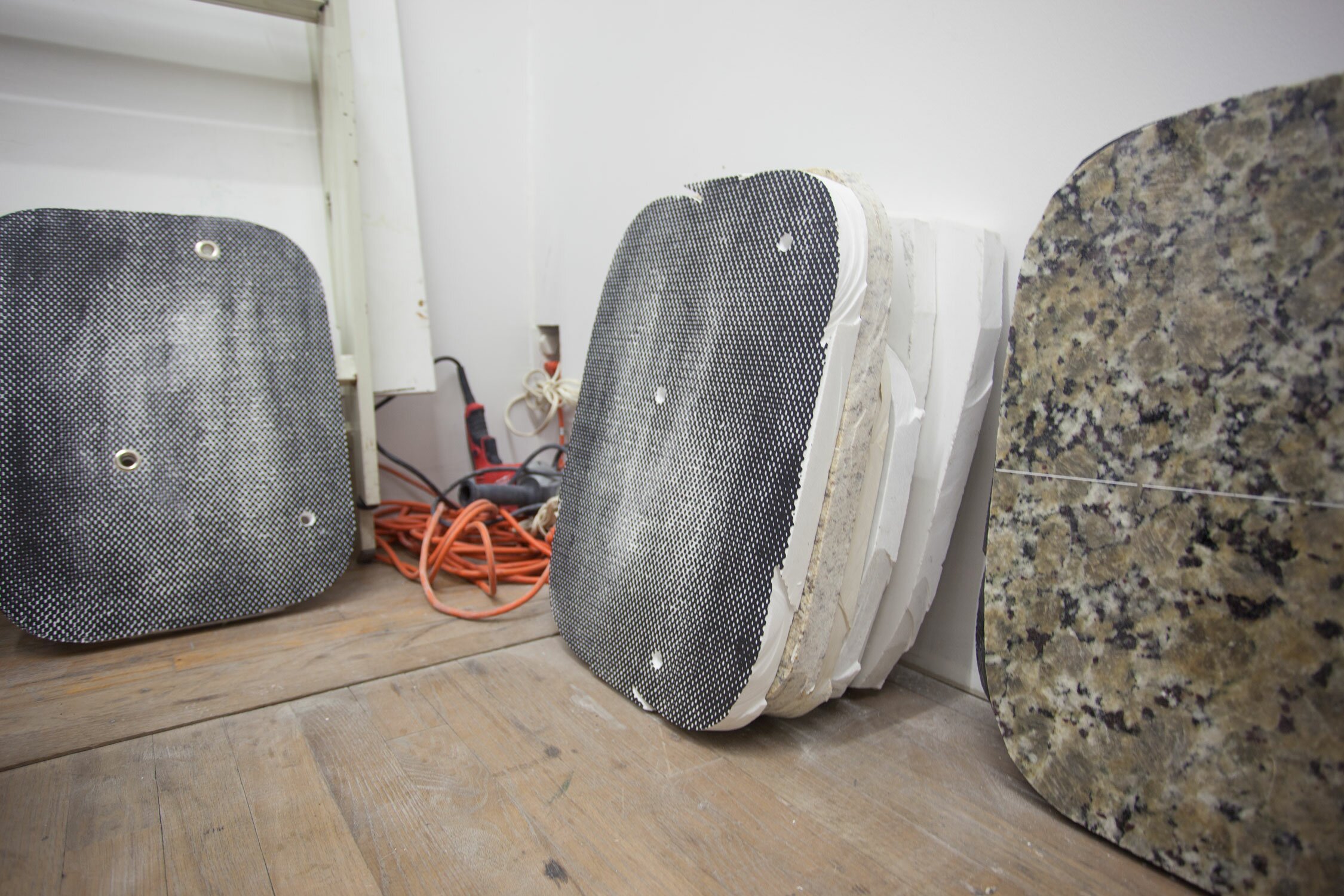 There seems to be this built in narrative with the materials. Can you explain your process with the slabs?
I've been calling them tablets. They started last summer when I used a lot of this stone cutoff for an installation "Counter Culture," a floor mosaic people had to walk on in order to view the other works in the show. It was for the exhibition 'In Every Dream Home…' here at GCA. The show was about the rapid turnover happening in this neighborhood, materiality vs. materialism, and loss. While making the mosaic I kept noticing the recurring shape of these sink cutouts. They're like tombstones, or vanity mirrors. Each one represents some kind of void.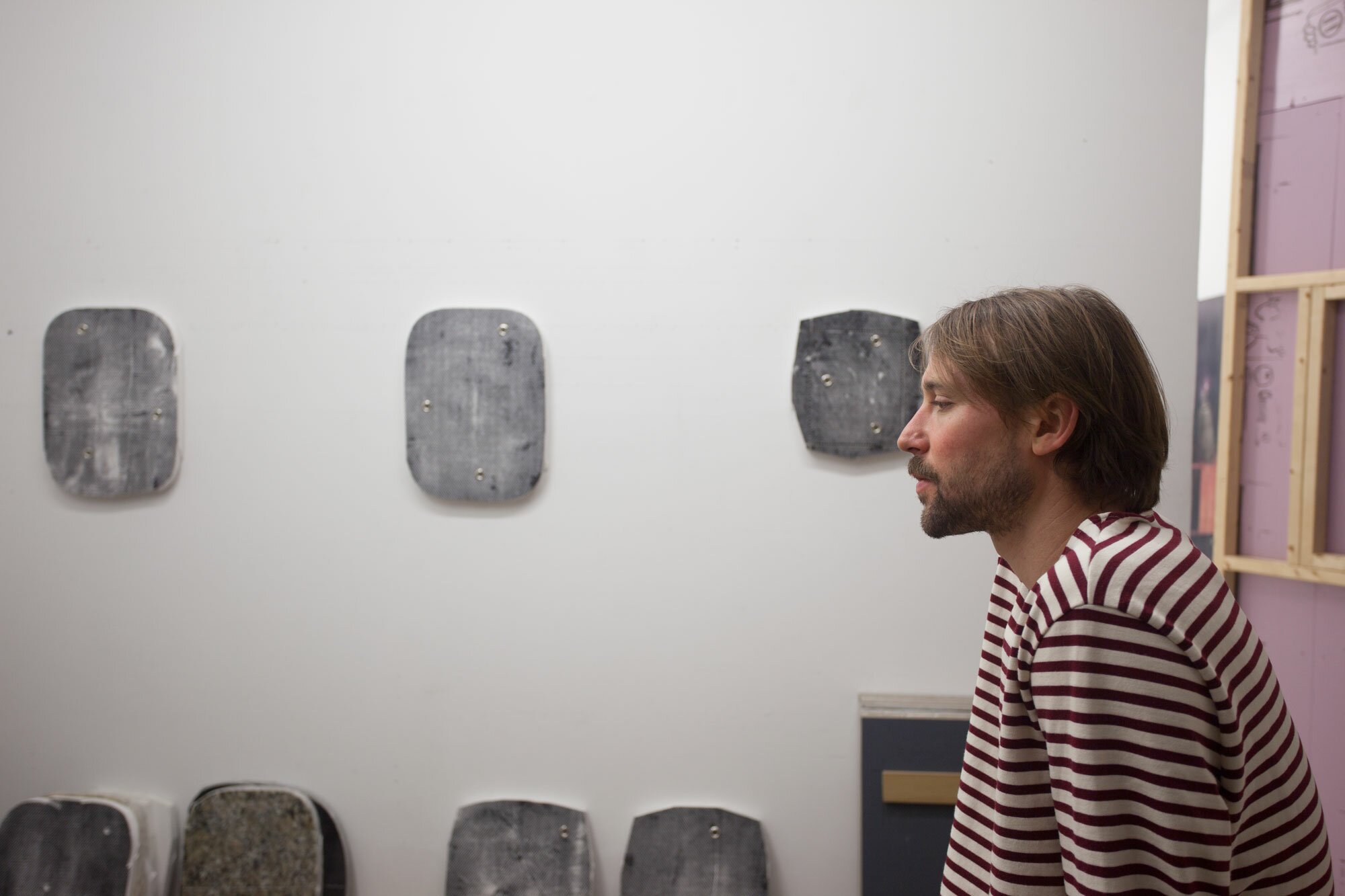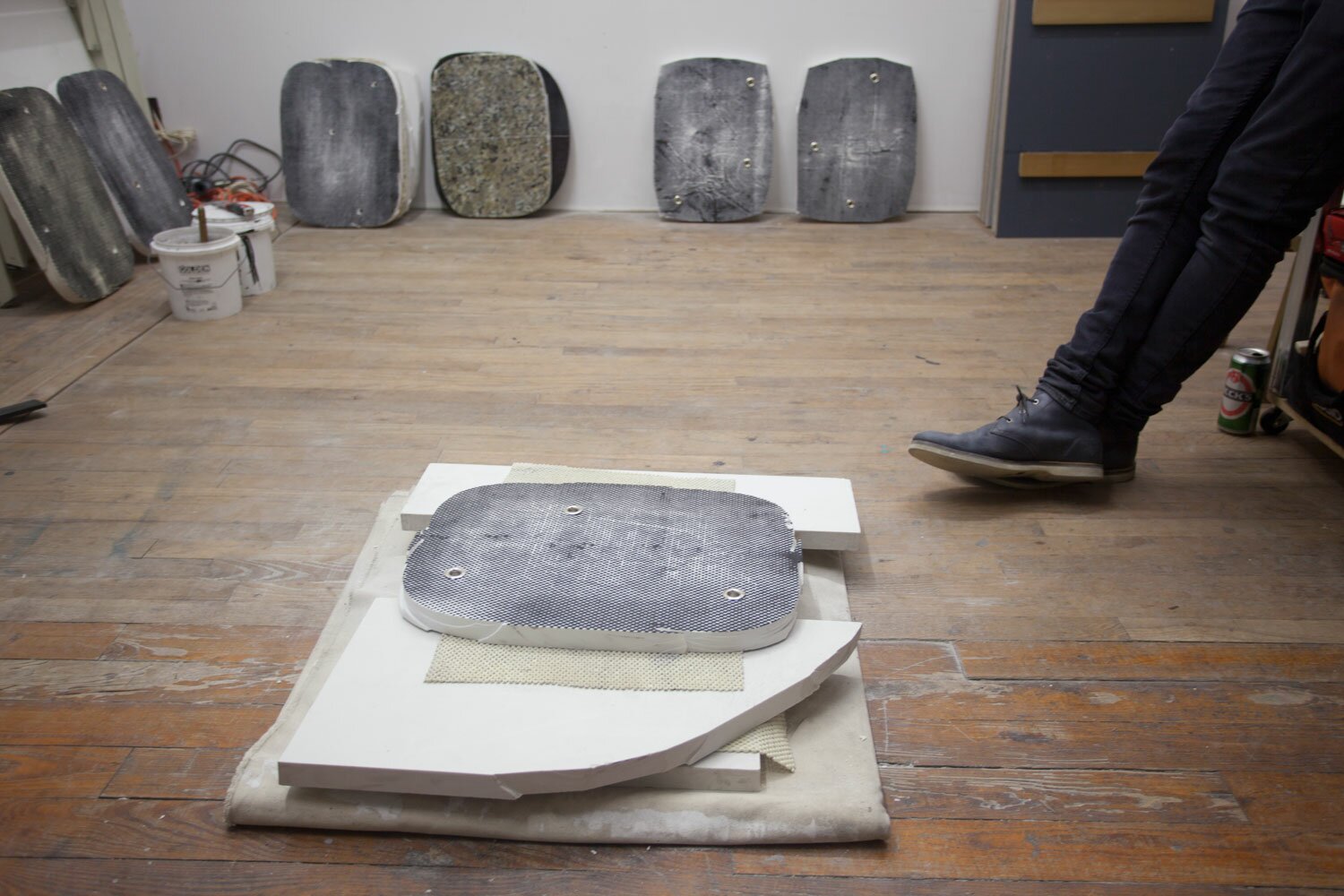 Holes and rivets open the surface of the tablets. Are the holes already present when you find them or are you creating them?
I add the holes. The quartz is just soft enough so that I can get through it with a hammer drill. The holes are paradoxical in that they literally represent absence but they add up in other ways. I think about them as negative points, or locations. Each painting has three points and together they create an invisible shape – a triangle – the simplest shape. The invisible triangle is a constellation, a kind of map. Then I add these grommets as value referents or correctives. The reflective metal shows the brightest whites and the darkest blacks. I use grommets because they're typically used on fabric and these refer to the printed image of fabric on the stone. They also make me think of drain holes, or bushings that act as guides for your eyes and thoughts.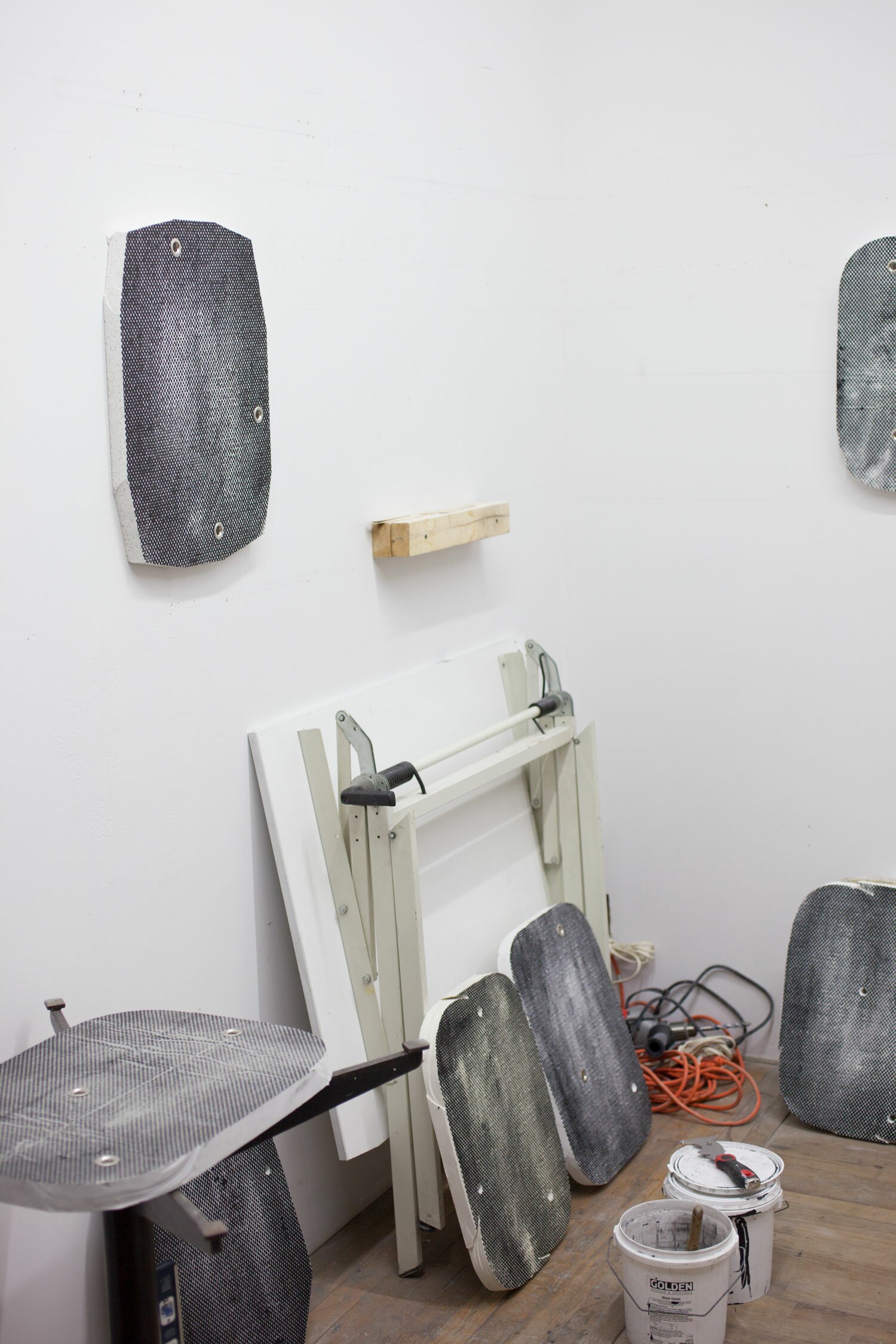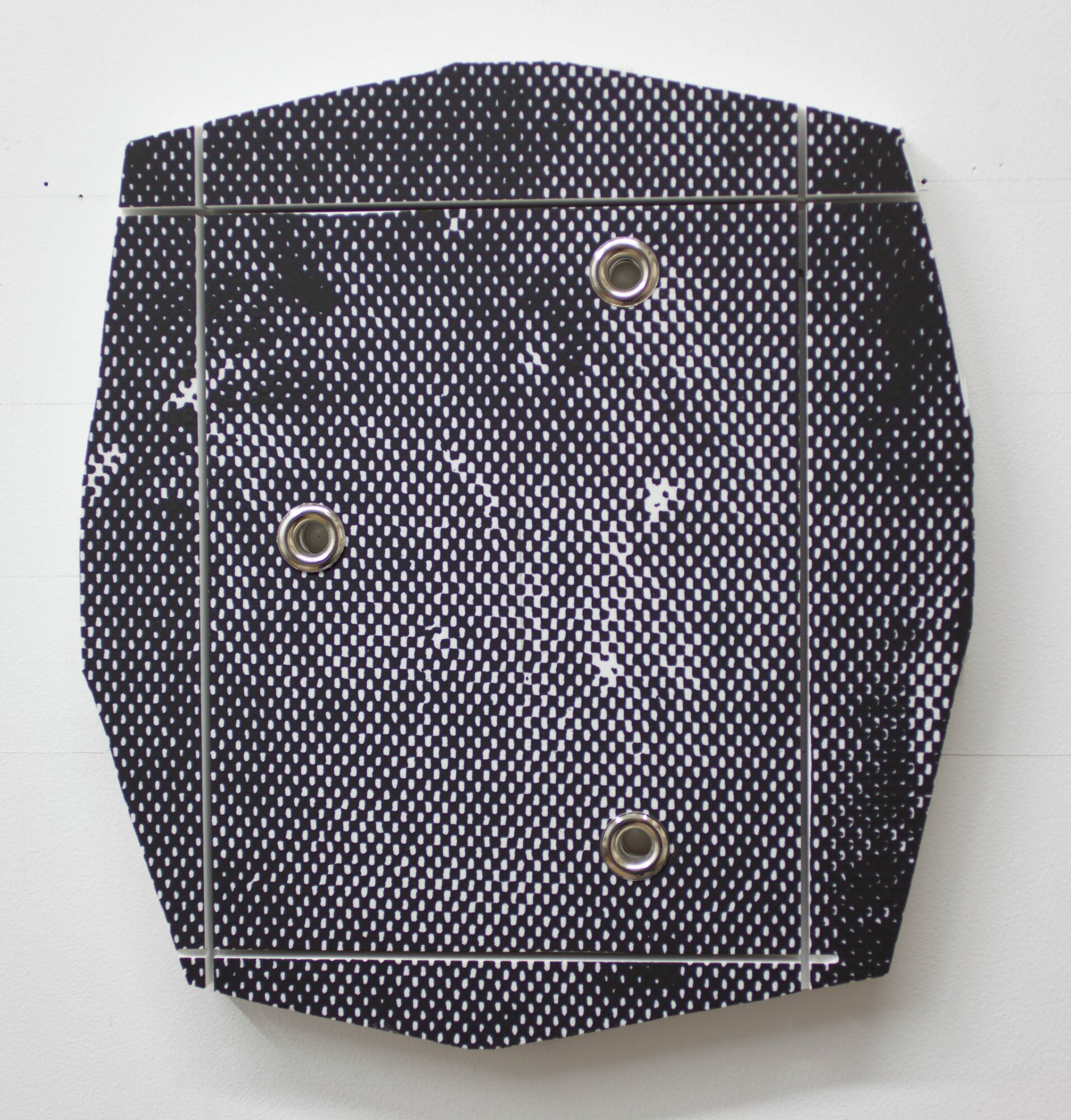 How do you achieve the black paint patterns on the surface? The buzzy texture that occurs reminds me of the Moiré effect seen in multiple screens overlaying each other.
The image is mono-printed. I use matte black gesso. I paint the gesso onto the surface of grid textured foam carpet padding and then press the stone onto it with my full body weight. If I do it well I get a very crisp image. But no matter how well I do it the image is always unique and singular. It becomes a snapshot of itself, or a record of a moment captured in stone, like a fossil.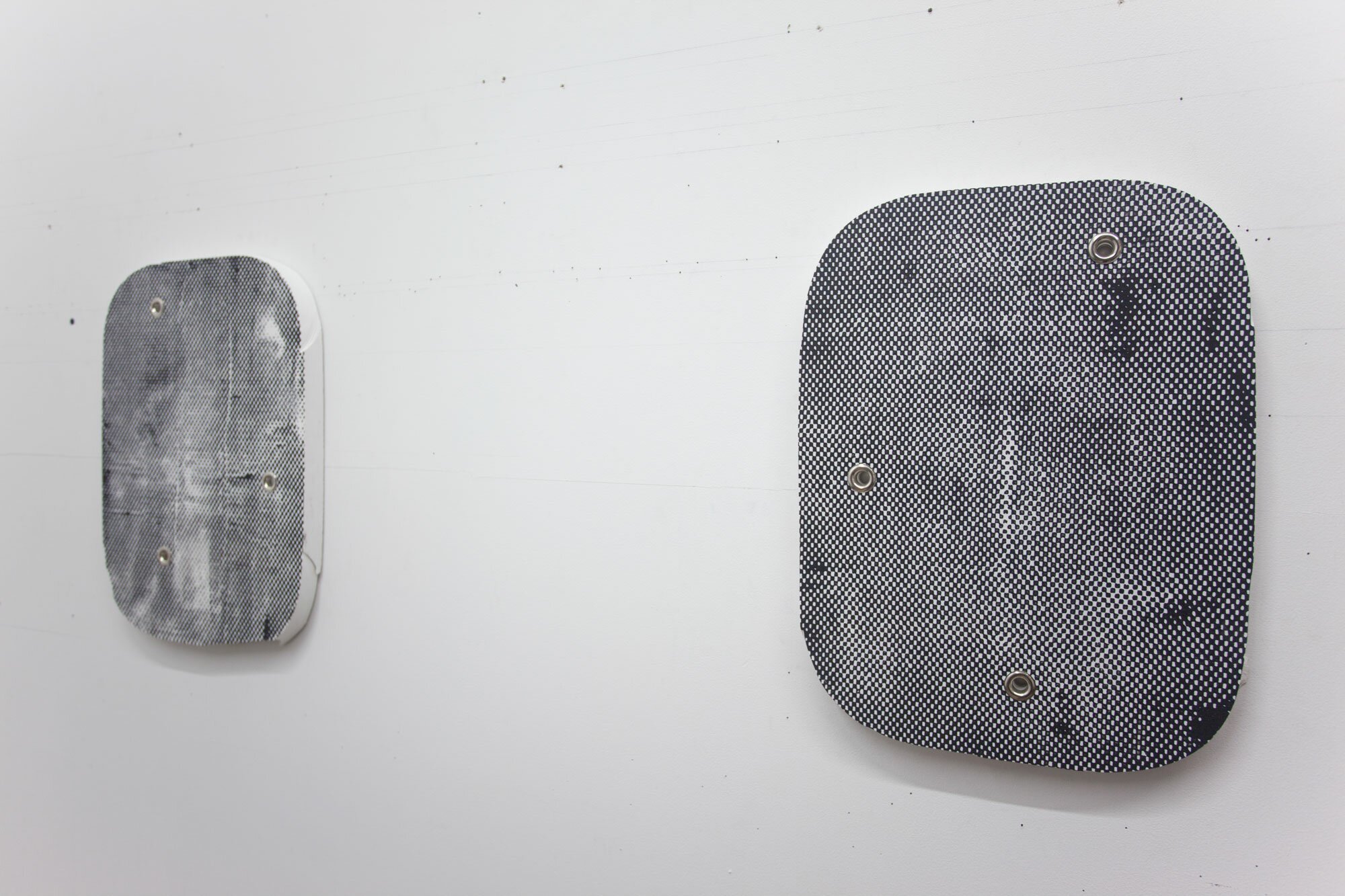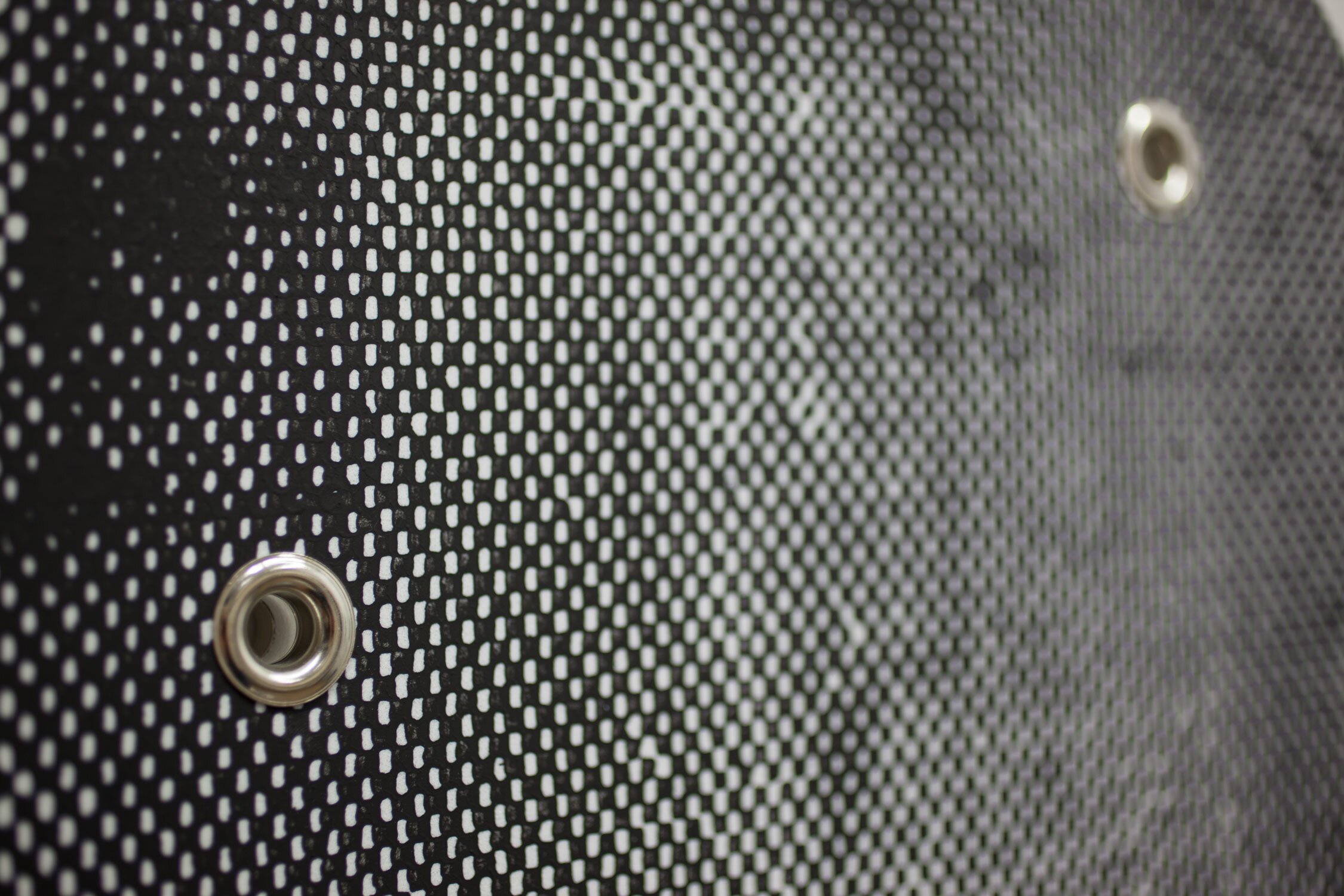 Do you see this body of work as an extension of your other work on canvas or as a separate entity?
It's definitely an extension. Different materials, same sensibilities. Different bodies of work, but maybe they're more like limbs on the same body. Lately I'm freeing them up or liberating them – seeing what the hands have to say to the feet, or what the feet want to do with the head.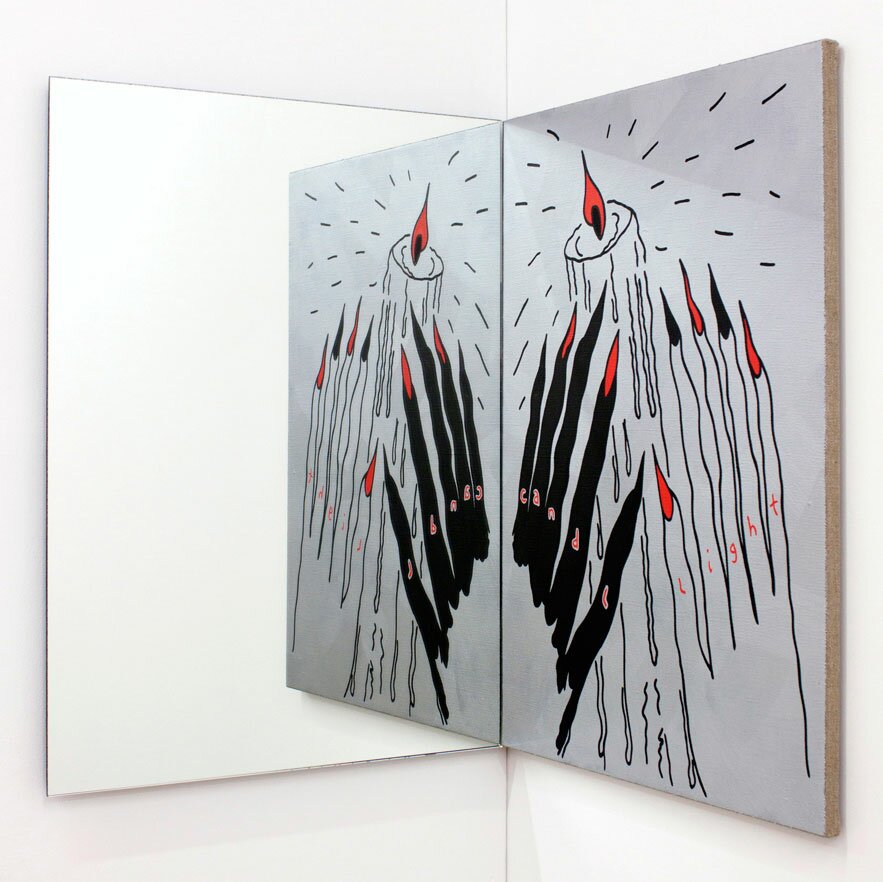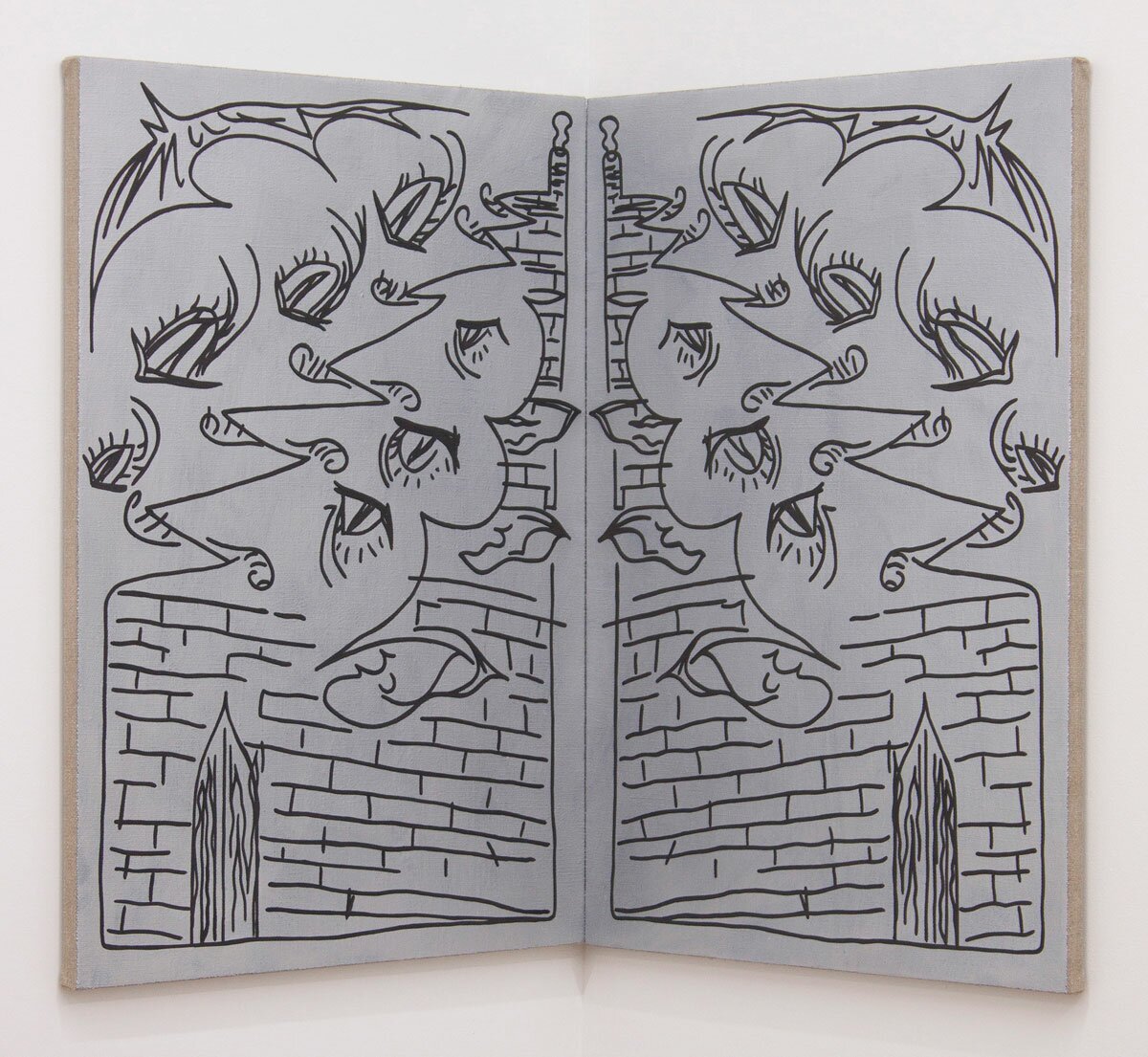 Your studio is split into two distinct spaces, a gallery (GCA) and your work space. Do you find your curatorial projects in GCA influencing or informing your studio practice? For instance with the floor mosaic piece or your tablet paintings?
Absolutely. GCA has been really generative that way. And the spatial arrangement here has worked well because there is a direct link between public and private. The GCA side is like a test-site for artworks and exhibitions. In turn, the studio side has somehow become better equipped for making things. In a tangible way, I'm in conversation with my artist friends. My studio is a private space, but I don't want to work in a silo where I am shut off. I guess this is why I deal with the innumerable difficulties of living in NYC. Its important for me to be surrounded by my peers – and that includes not only painters, but musicians and writers as well.
I'd say what's been most informative personally is the challenge of doing right by other artists. It can be difficult to talk about an artists' work and do it justice. I'm sure you can relate. And getting it wrong or misrepresenting someone is the worst thing you can do. I've had nightmares about it.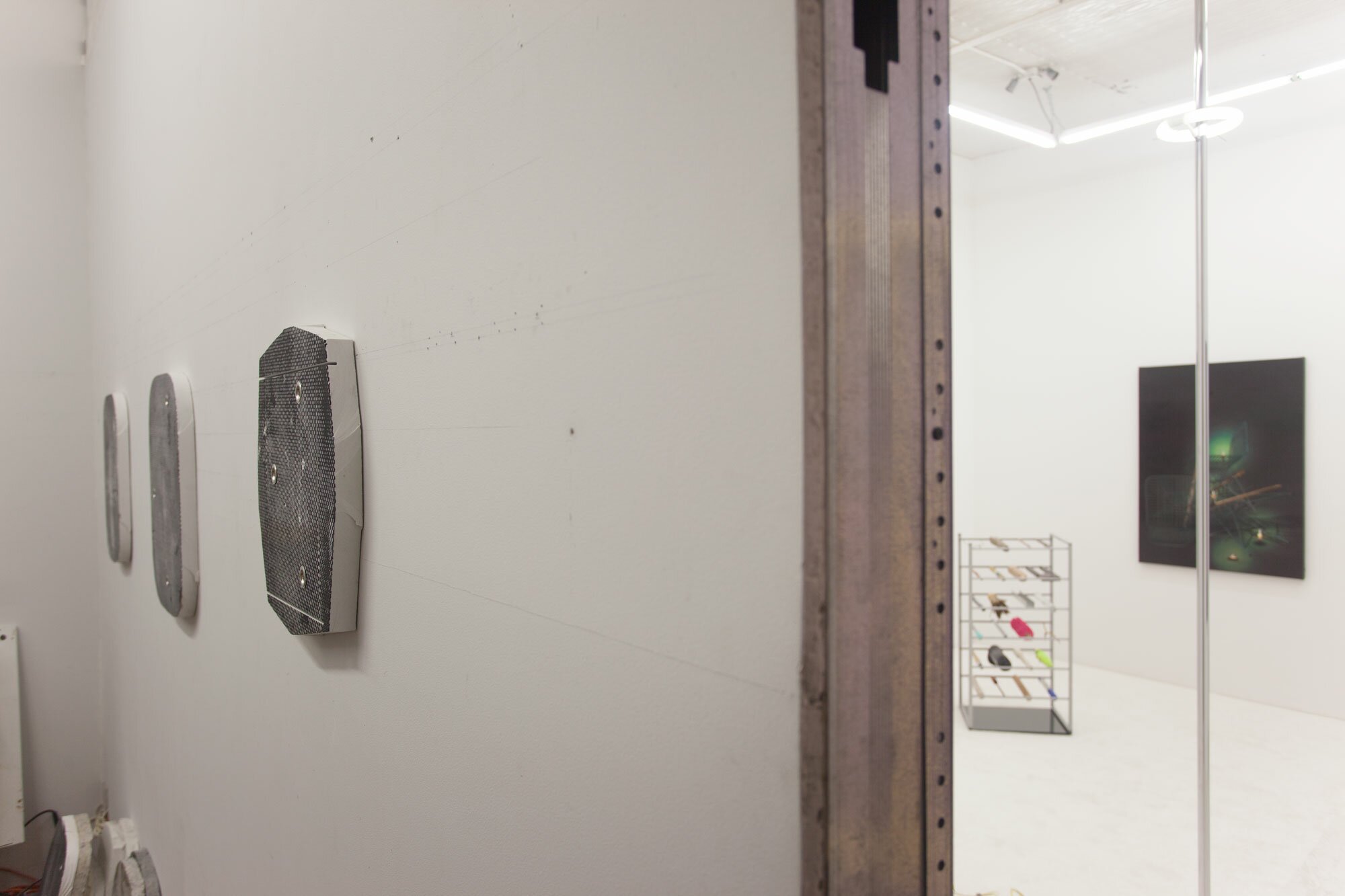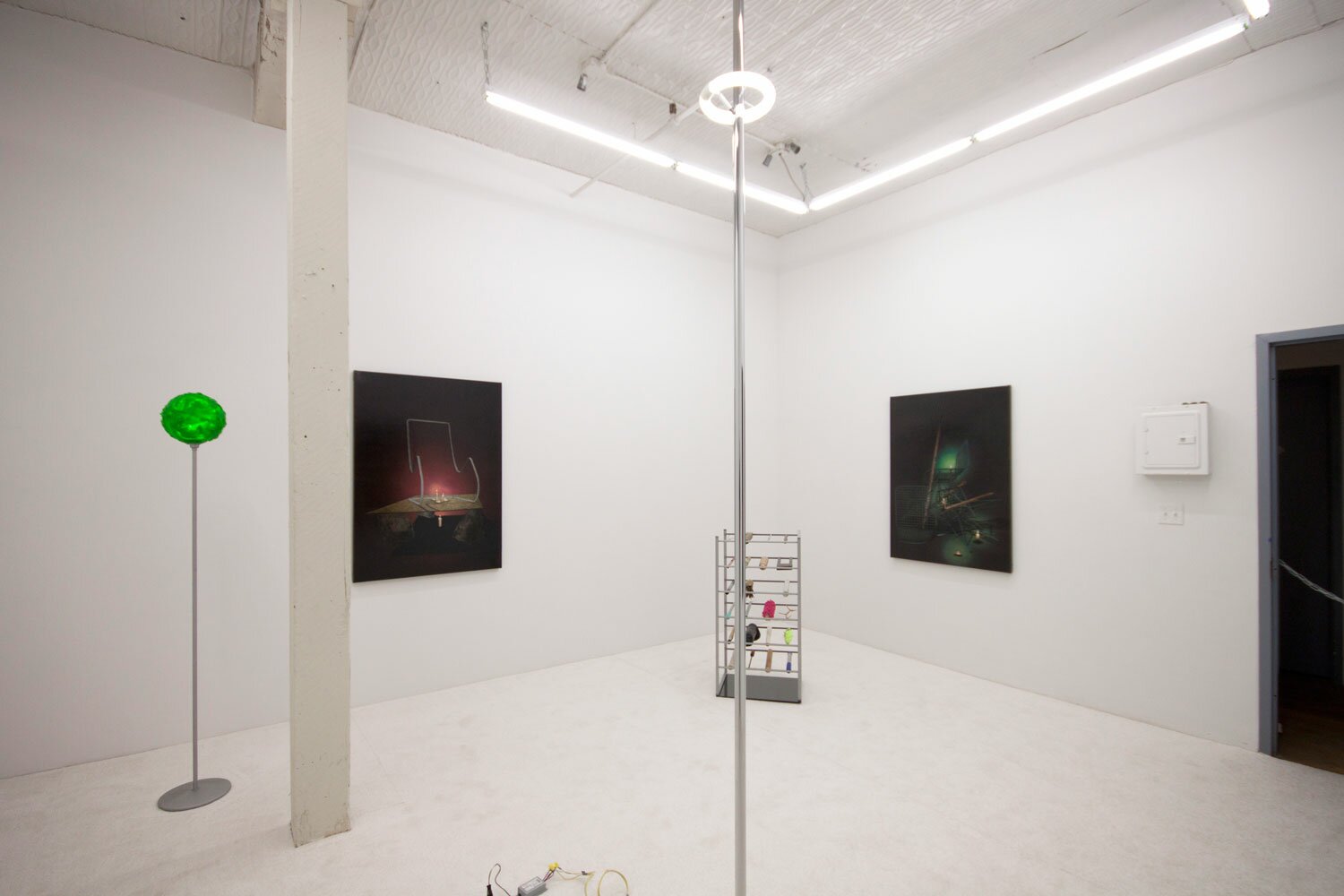 GCA is run by Mike Schreiber and his partner Mary Kosut. Their next exhibition Deep Space/Shallow Grave opens Friday March 27th. More info at groupclubassociation.tumblr.com
More of Mike's work can be viewed at his website www.mikeschreiber.info