The month of September marks the awakening of the art world after a slow vacation-filled summer.
Take a look at our Chelsea Gallery Guide below for which galleries to hit up in the original art neighborhood of New York and for a list of openings in the area.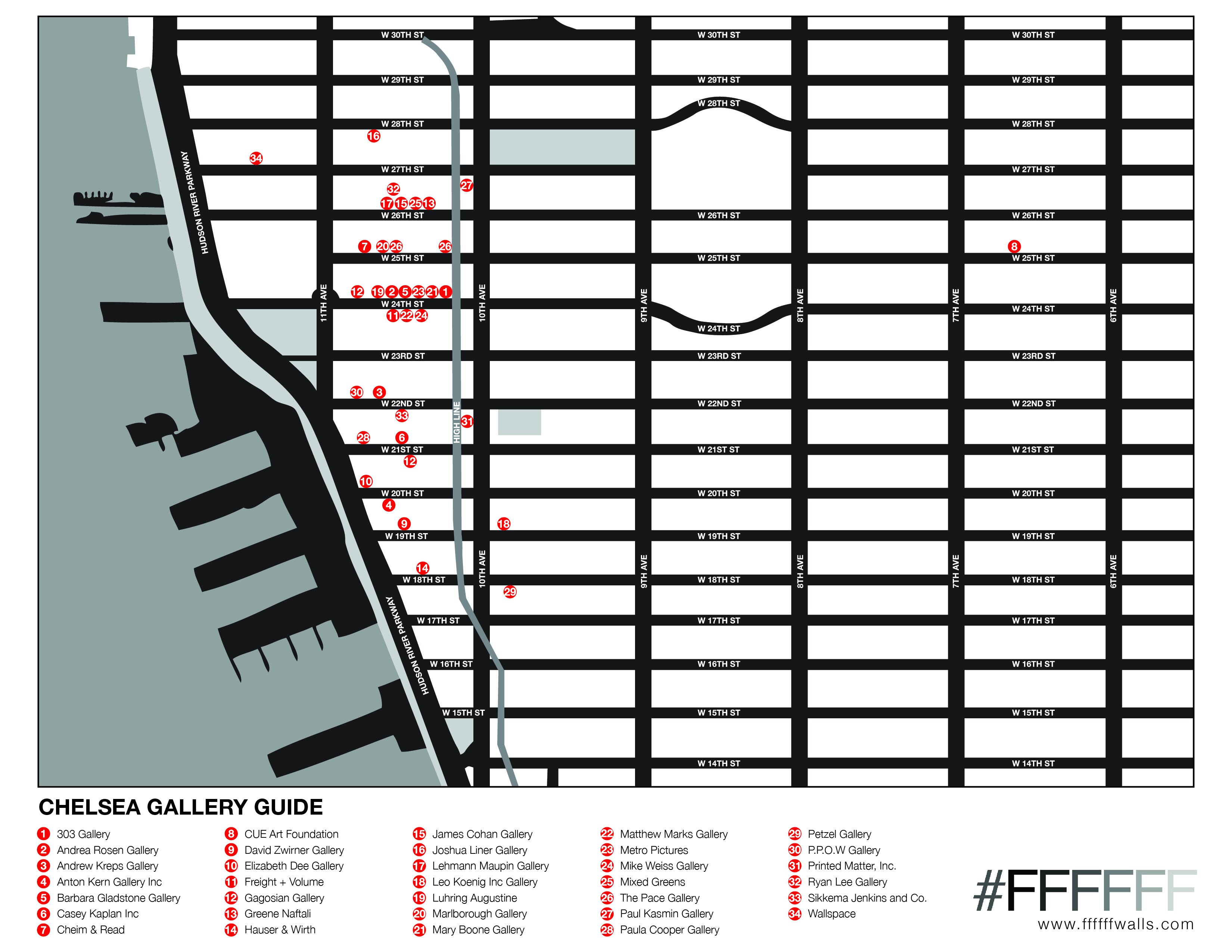 Click here to download.
Michael Raedecker "Tour" @ Andrea Rosen Gallery
Sep. 7th – Oct. 5th
544 West 24th St, New York
"The Decline and Fall of the Art World, Part II: The Other 99%" featuring Damien Crisp, Cristina de Miguel, Noah Lyon, and Laurina Paperina @ Freight + Volume
Opening: Sep. 12, 6 PM – 9 PM
Sep. 12th – Oct. 12th
530 W 24th St, New York
David Ellis "Hudson River Alley" @ Joshua Liner Gallery
Opening: Sep. 12, 6 PM – 8 PM
Sep. 12th – Oct. 19th
540 West 28th Street, New York
Angel Otero "Gates of Horn and Ivory" @ Lehmann Maupin
Opening: Sep. 12, 6 PM – 8 PM
Sep. 12th – Nov. 2nd
540 W 26th Street, New York
Josh Smith @ Luhring Augustine
Sep. 13th – Oct 19th
531 West 24th St, New York
Anne Truitt "Threshold: Work from the 1970s" @ Matthew Marks Gallery
Opening: Sep. 12, 6 PM – 8 PM
Sep. 13th – Oct. 26th
522 W 22 Street
Jon Rafman "You are standing in an open field" @ Zach Feuer
Opening: Sep. 12, 6 PM – 8 PM
Sep. 12th – Oct. 26th
548 West 22nd Street, New York

View Chelsea Gallery Guide in a larger map