Maiko Kikuchi is an installation artist from Pratt's MFA program. Originally from Japan, Maiko speaks with us about her inspiration from her 'weird' dreams, her thesis installation and how her background in fashion design and illustration influences her work and her process.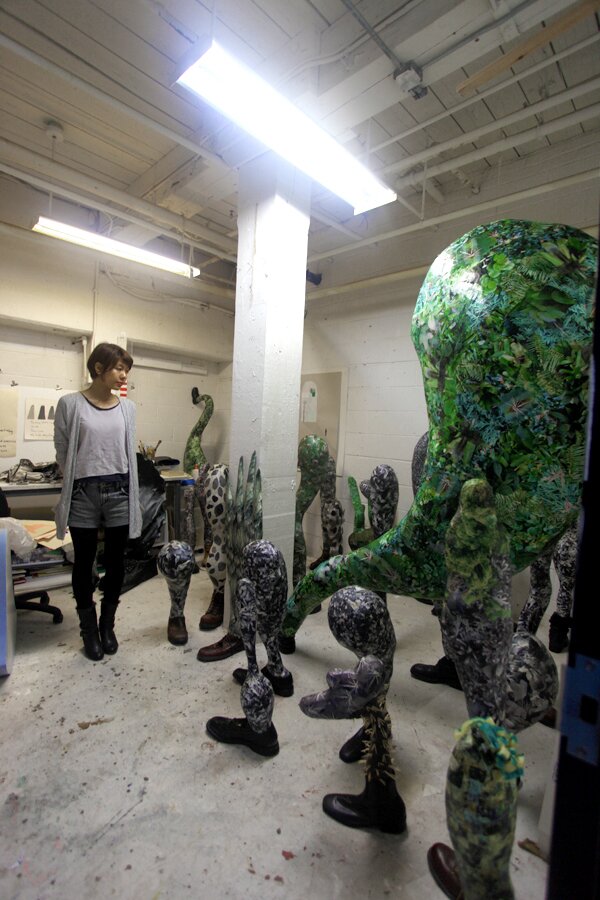 F: Can you talk about your background and where you came from before Pratt?
MK: I went to Musashino Art University in Tokyo, Japan as my undergraduate. Though my major was fashion design, I was interested in clothes as a sculpture which would be able to wear. After graduation, I was working on llustrations for some books or packages but I became to want to make art not only for customers but for myself then decided to focus on fine art. I love my country, Japan but I thought I'd be able to broad my expression in NY where has many different kind of people or cultures. That's a reason why I chose to study at Pratt.
東京にある武蔵野美術大学に入学し、ファッションのゼミを専攻した。でも、ただ着る
だけの服ではなく、着ることのできる彫刻として興味があった。
卒業後はイラストレーターとして、本やパッケージのイラストレーションの仕事をしたけ
れど、依頼人のためではなく、自分の為に作品を作りたいと思うようになり、大学院で
ファインアートを勉強しようと決めた。日本は大好きだけれど、もっと色んな人種や文化
の集まる国で自己表現の方法を見つけたくて、NYで勉強する事を決め、Prattに入学し
た。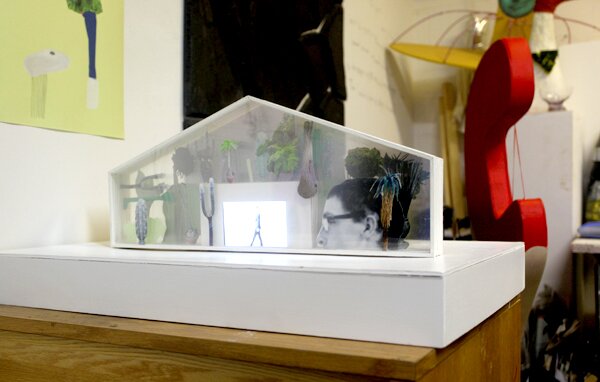 F: Tell me about your work and what your installation was like in your thesis show.
MK: I keep thinking how I express a boundary between reality and dream whenever I make my works. I often had a same dream when I was little and it made me confuse that whether this dream was reality or not. That weird feelings became a core of my works. I can express it through my drawing or collage but I want to involve viewers in my strange dream by offering actual space as an installation composed of my sculptures.
作品をつくる上で常に思っていることは、どうやって夢と現実の境目を表現するか、と
いうこと。小さい頃に何度も同じ夢をみたことがあって、そのうちそれが夢なのか現実な
のかあやふやな気持ちになった。その時経験した不思議な感情が今の私の作品の核になっ
ている。ドローイングやコラージュでもそれは表現出来るけれど、それを彫刻にして、イ
ンスタレーションとして空間自体をつくることで、現実世界にいる観客を、私のつくる変
な夢の世界に閉じ込めたかった。それが、今回の卒業制作展の一番の目的。
F: We're seeing these sculptures close together in a tight space [in your studio]. Was it also like that in the installation or were they more spread out?
MK: The view of my studio you saw was arranged for my narrow studio space. So it is different from my thesis show. Those sculptures were spread as you said because I needed to make enough space to viewers for walking among my
sculptures. That was important for making them feel as if they were a part of my dream.
スタジオ訪問の際見てもらった状態は、あくまでもあの狭さに合わせてアレンジしたも
のだったので、実際の展示ではもっとそれぞれの彫刻が離れて配置されていた。観客がそ
の空間を自由に歩き回れる事が重要だった。そうすることで彼ら自身が私のつくった夢の
一部である事を感じてほしい。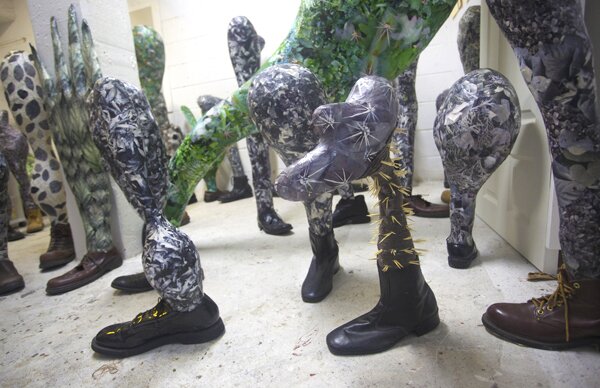 F: Is the video in the miniature greenhouse, the same video projected in your installation?
MK: The film I projected on the wall in my thesis show was different from the one played in the small green house. In the small greenhouse, businessman is just walking about and the one for the gallery's wall shows the life size businessman who came out from the small green house is working toward the actual door installed on the gallery's wall, and knocks it. Because a huge green sculpture in a shoe lean against the opposite side of the door never responses to him, the businessman turns back to the small green house. In this way, I tried to show that kind of short story which is repeated in the dream by using two different films. My show's title, "My Neighbor Always Pretends Not to Be Home.", is from that story.
実際にギャラリーの壁に映し出された映像は小さいグリーンハウスの映像とは別のも
の。小さいグリーンハウスの中ではビジネスマンがただ行ったり来たりしているだけだけ
れど、壁に映し出したものは、小さい温室を抜け出したビジネスマンがやってきて、実際
に設置されているドアをノックしてまた引き返していくというもの。小さい映像と大きい
映像を連動させて、夢の中で繰り返される小さなストーリーを表現した。私の展示のタイ
トルである"お隣さんはいつも居留守を使っている"はこのストーリーに基づいている。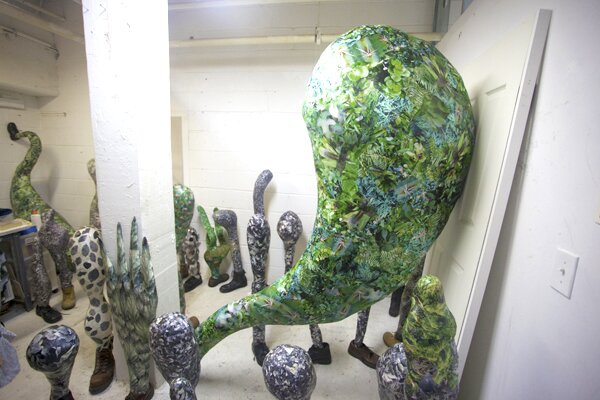 F: Why did you choose a businessman? What significance does the businessman have in your work?
MK: A businessman is a metaphor of reality to me. They wear similar suits, similar hair and behave in a similar way almost everyday. They seem to be a stranger but you may be the one of them. I believe that's what a businessman is.
ビジネスマンは、私にとって現実世界のメタファー。同じようなスーツを着て、同じよ
うな髪型をして、同じように忙しく働いている。知らない誰かだと思っていたらじつは自
分自身かもしれない。それがビジネスマン。
F: Can you talk about your drawings and how they relate to your sculptures?
MK: Drawing and collage is my first step for making visible form from ambiguous image in my mind. It could be finished work but also idea sketch before making sculpture. Relation between two dimensions and three dimensions is important for my consistent theme "construct a strange dream". Because dream is a existence whose dimension is undefined. Sometimes the thing seems to be two dimension is actually something three dimension, at other times the thing looks solid is really flat. Showing such a distortion of dimensions is one of the expresion of dream. I have been looking for my own way to convert two dimensional collage to three dimensional collage.
ドローイングやコラージュは、私の頭にあるもやもやしたイメージを目に見える形にす
るはじめのステップ。それ自体が作品でもあるけれど、同時に彫刻作品のアイディアス
ケッチでもある。私にとって、作品のコアである"不思議な夢の世界の構築"には、二次元
と三次元のやりとりが不可欠だ。なぜなら、夢そのものが、次元が曖昧な存在だから。平
面にみえるものが実は立体だったり、立体だと思ったものがじつはフラットだったり、そ
ういうねじれた空間の表現が私にとって"夢"の表現手段のひとつ。最近は、その点に
フォーカスをあてて、二次元としてのコラージュを三次元としてのコラージュに変換する
にはどうすればいいかを試行錯誤している。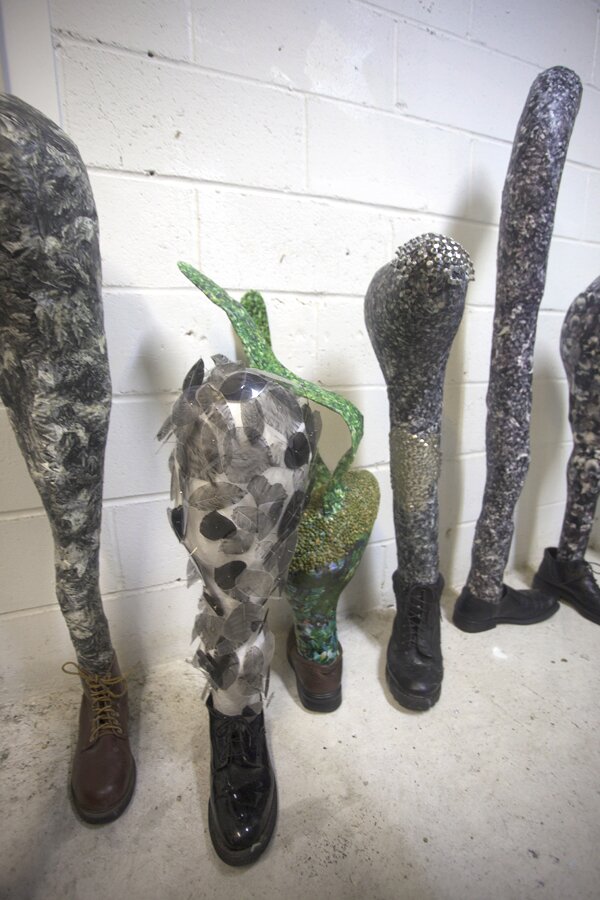 F: Can you talk about the process you went through to create these sculptures? I know you mentioned that they were inkjet prints. How did you come up with the shapes of the sculptures and where did the images from the inkjet prints come from?
MK: The way to make a sculpture is depends on the time, now I use paper, balloon, form core board for a base of sculpture, then cover it with a inkjet printed matter. This way is the way I try to make a three dimensional collage. A greenhouse is a basic idea of my thesis show. I first visited the greenhouse in Brooklyn Botanical Garden alone last winter. Only inside of the greenhouse was filled with a lot of greens and I felt I was watched by them. After back to my studio, I draw out that weird feelings by drawing and collage as usual. They look like an abstract image which mixed human and plants and I picked one of them which is the one with an abstract green's shape in a man's shoes and then made a sculpture from that drawing. I made a abstract shape using paper, balloon,
chicken wire and collaged inkjet prints of plants and leaves I took in the greenhouse on the base shape and then had these sculptures put on actual man's shoes. To me, one of the points of choosing material is lightness. I'd like my sculptures to be light even though it looks heavy as the things in a dream. I also want to express the unclear memories of colorwise or sizewise which you wake up from a strange dream, so I use mono print and color print together
どういう風に立体をつくるかはその時によって違うけれど、卒業制作の作品をふくむ最
近の彫刻に使っている主な素材は紙、風船、フォーンコアボードが下地になっている。そ
してインクジェットプリントした素材を表面にコラージュする。この表現方法はまさに、
二次元としてのコラージュを三次元としてのコラージュに変換する作業。卒業制作の彫刻
は、温室がテーマになっている。ブルックリン植物園を一人で訪れた時、冬なのに温室の
中にあふれかえる緑が、私を見ているような不思議な感覚をおぼえた。スタジオにもどっ
て、いつものようにドローイングを描いた。人と植物が入り交じったようなイメージのド
ローイングのなかから、抽象的な緑の形が靴を履いているものをピックアップして、それ
を立体におこした。風船や紙でドローイングで描いた抽象的なかたちを作って、温室で実
際に撮った植物の写真をプリントアウトしてその表面にコラージュして、実物の靴を履か
せた。私にとって、素材を選ぶポイントのひとつは軽さにある。重そうにみえるのに実は
軽い、そのギャップも、私にとっては夢の表現手段の1つ。そしておかしな夢から覚めた
あと、はっきりおもいだせない色や形の記憶の曖昧さを表すために、モノクロプリントと
カラープリントを織り交ぜた。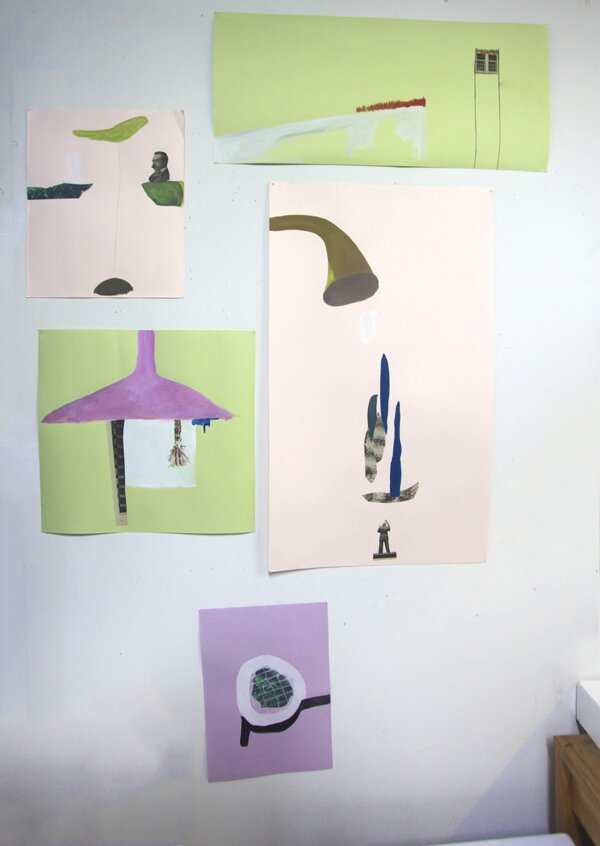 F: What is your past work like?
MK: I'v been focus on consisten theme even though I express it through illustrations or fashion design. When I made a clothes in my undergraduate as an assignment of fashion class, what I made was a suit for the thief. That has a extra space as a part of the close and it bulges when the thief put the stolen stuff in the space. I took a photo of the model in the clothes and cut it out and put another photo I took in my neighbor which is a common public space as collage works. What I made when I first come to America was a small sculpture made by bread. They are combined breads and daily materials I found in a hard ware store. I put a lot of them on a table, so it looked like a dining table which was served uneatable break first on.
ファッションやイラストレーションなど、彫刻とは違う媒体をあつかっていても、ずっ
と前から表現したいコアは変わっていない。日本の大学でファッションの課題で服を作っ
た時も、泥棒のための服を作った。盗んだものを取り込むことで丸い形になるスーツを
作って、それを着たモデルの写真を、住宅街や横断歩道などのありふれた景色の写真にの
り付けして、コラージュ作品としても表現した。アメリカに来て一番はじめに作ったのは
パンと日用品を組み合わせた小さな彫刻。それをたくさん作って、食べれない朝食がなら
んだダイニングテーブルを作った。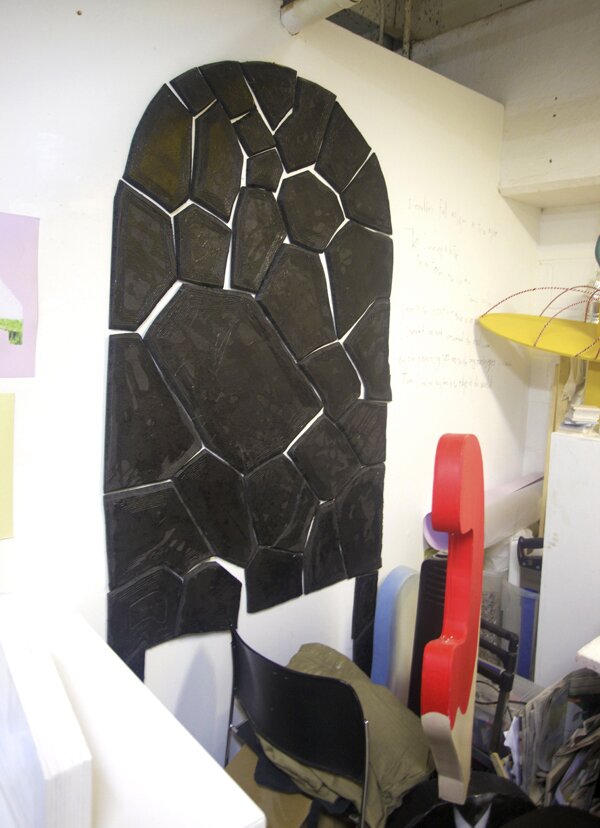 F: What do you look for in a studio?
MK: A home is filled with 100% reality. But when I come out from the house and walking toward my studio, I find something funny in everyday scenes and that makes me imagine some new idea for my works then I make out something new from the idea in my studio. Studio is a place I can forget about reality and play with an imagination freely, so it is a factory to make a strange dream to me. I need to keep it to be on a boundary between reality and dream. Of course I need a enough space to put my sculptures.
わたしにとって家は100%現実的な場所。でも家を出て、歩いている間に日常風景の
なかで色んなイメージがわいてきて、スタジオでそれを形にする。スタジオは、わたしに
とってイマジネーションを自由に遊ばせることができる場所であり、おかしな夢を生産す
る工場。そのためにも、スタジオこそ現実と夢の境目に位置しつづけていてほしい。もち
ろん、彫刻を保管するための十分なスペースも必要だけれど。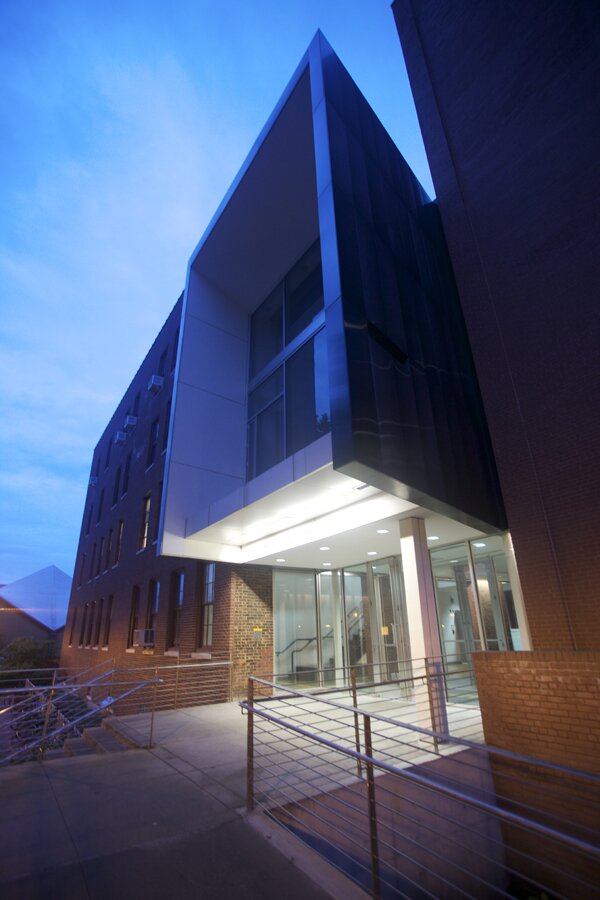 F: Has the school studio environment and the closeness of your peers affected your work?
MK: I got a lot of good stimulation in my studio environment at school. When I had just come to Pratt, I always struggled to use English, so art work was the only communication tool to me at that time. Conversation with my friends and professors in class through each works was so helpful for me to understand each other. I think this process was hard to have other environment. Thanks to my patient friends and teacher, I got a lot of great invisible tools to express my self.
とても良い刺激のある環境だと思う。日本から来た私にとって、prattに来たばかりの
時は言葉のハンディが今よりもっと大きかった。だから、作品そのものが最大のコミニュ
ケーション手段だった。授業で先生やクラスメートと互いの作品を通してやりとりするこ
とはお互いを理解するのにとても役立った。このプロセスは、他の環境ではなかなか得ら
れない大切な経験だと思う。根気よくやりとりしてくれる仲間がそばにいる環境にいたか
ら手に入れた目に見えない道具がたくさんある。
You can find more of Maiko Kikuchi's work at www.maikokikuchi.net